In case the 2013 Met Gala wasn't exclusive enough, Vogue Editor-In-Chief Anna Wintour this year made sure to up the ante.
Apparently too many nobodies were buying their way into the gala last year by purchasing $15,000 tickets just to stand near the stars. Pffft, commoners. So this year Wintour increased ticket prices by $10,000 so those la-hu-za-hers wouldn't be able to pay their way in.
But the joke's on Wintour — and on the ticket buyers, I guess — because if someone can part with $15,000 for dinner in a museum, they can probably save the extra 10 grand just by skipping their weekly Botox fix…or their weekly brand new car.
Could the extra exclusivity be because of Gwyneth Paltrow's gratuitous rant about overcrowding at last year's gala? To quote the great soggy wet blanket of Hollywood, "It was so un-fun." The Goop pioneer also said she'd never attend the Met Gala again. Does that mean she'd rather stay home eating her own hair?
G/O Media may get a commission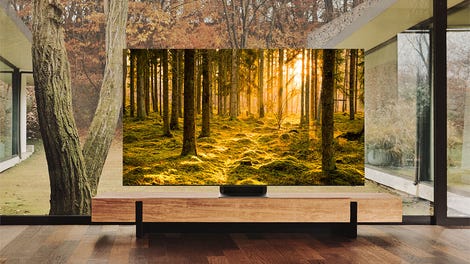 Up to 40% off
Samsung Smart TVs
But if our celebrity predictions are correct — and they usually are not — we'll see Goop arrive with the last wave of guests in the biggest couture gown you've ever dreamed of because…she needs to stay relevant somehow?
Anyways, back to the Costume Institute; or, as it will now be called, the Anna Wintour Costume Center, a veritable "Who's-Who" of "Who is wearing an Anna Wintour costume?"
So what else could possibly be new this year? Oh right, the white tie dress code.Take it away, Leonardo Da Vinci.
With white gloves, canes, and top hats, we can expect all the men to look like offspring of the Monopoly Man. Will Pharrell's Grammy hat break the dress code? Will that prevent him from being happy?
Ladies are expected to wear evening gloves, so all the backlash over Kim Kardashian wearing weird floral gloves at last year's gala was nothing but mean snickering by the popular girls in the cafeteria.
Still, Vogue.com had someone lay out proper glove etiquette. Apparently gloves are expected to be worn while shaking hands and while dancing, and removed while eating dinner. And as far as the dinner goes, no word on whether gloves will be required in the kitchen.
In an interview with E! a Vogue employee shared her first-world stress about putting the gloves on and off to tweet and Instagram. What a pity! Maybe just don't wear gloves?
Oh yeah.
Andy is a graphics editor and cartoonist at Fusion.
Romina Puga is a pop culture reporter and producer for Fusion. You can find her on "Fusion Now," Fusion's daily TV updates, going over new movies, music, apps, and why D'Angelo is still sexy.