Finding love can be hard. Some days, finding the right student loan can seem even harder.
While Tinder and OkCupid help people find romance - or at least a hookup - Achieve Lending promises to be a matchmaker of sorts between confused borrowers and student loan lenders.
For Sallie Mae, swipe right.
We're kidding, sort of.
Founded by former investment banking analyst Allen Kors, the brand new company claims, he said, to be "like a Kayak for student loans."
Here are the basics:
A potential borrower fills out a bit of information about himself - where he is planning to go to school, how much money he needs, his email address, etc. - and submits it to Achieve. Achieve analyzes it and then suggests a series of potential loans that might be a good fit.
G/O Media may get a commission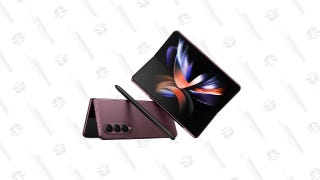 Save Up to $300
Galaxy Z Fold4
Lenders pay a referral fee to Achieve when they receive a customer.
While that might raise red flags, Kors swears the company "is not trying to guide people toward the decision that makes the most money."
He's reluctant to get into exactly how his company matches potential borrowers with potential lenders. But he's less coy about the fact that the student loan industry is a hot business opportunity at the moment.
"It's a huge market," he said, "and it's fragmented, broken."
Kors isn't alone in that assessment. As student debt rises, so too do the number of companies that promise to help students figure out how to pay for college.
The Peter Thiel-backed Social Finance has issued more than $600 million in loans since 2011 and is already profitable. Upstart, launched in 2012 by ex-Googlers, is smaller but popular with qualified borrowers because it offers very low interest rates to qualified clients.
Achieve, Kors said, is different because it plays more of a matchmaking role and recognizes that higher education isn't limited to young people pursuing four-year bachelors degrees.
"The older…companies you might call competitors define education in a narrow way," the Cornell-educated Kors said.
He's savvy to recognize the changing student demographics. The 40 million people who hold the nation's more than $1.2 trillion in student debt are an increasingly diverse bunch. There are more older students with work experience and obligations outside of school, and more people looking to gain a set of specific skills - through an online coding course, for instance.
Allen Kors (Photo courtesy of Allen Kors)
If someone wants to buy a beat-up car that they can tinker with to learn about automobiles, Kors said, Achieve wants to help fund that type of education.
Finding the right lender willing to front such a nontraditional learning experience might be a little more tricky. Kors says that right now Achieve offers around 20 lending options, including CommonBond, which he hopes to increase to 30 or 40 in the future.
He hopes smaller lenders will see his company as a way to level the playing field. Sallie Mae isn't going to be too interested because they already own a huge chunk of the student lending market. A company like Upstart might be more enthused.
Achieve, which Kors says is currently backed by friends and family, officially launched at the end of November. It's still far too early to evaluate its success.
But it's clear that the bureaucracy of the federal and private student loan industry, and the lack of agreement in Congress over how to handle federal student loans, has created an opening for such startup ventures.
While many students and left-leaning organizations like the Center for American Progress have called on lawmakers to do more to help students minimize debt, Kors says he's a "strong believer in free markets and capitalism," and their power to reform the industry without government intervention.
Conservative organizations like the Heritage Foundation are thrilled at the idea of private companies like Achieve entering the student lending space and disrupting what they say is a near-monopoly by the federal government in the student lending space.
"Getting private investment back into the market would be beneficial to students and taxpayers," said Lindsey Burke, an education policy fellow with Heritage, adding that, right now, when federal student loan borrowers default, taxpayers bear the burden.
Burke also sees value in diversifying the student lending space because she thinks private companies will take "more objective" factors like repayment rates into account when they set interest rates than the government currently considers.
Kors expects student debt to continue to rise in the short-term, but says that over the next several decades, he thinks education will become available through more avenues, such as online courses, which will bring tuition, and debt, down.
Burke agrees, and thinks that giving students more loan options could ultimately drive down the cost of college because, she said, universities currently see easy access to loan money as incentive to raise tuition.
"I definitely think," she said, "that this is a step in the right direction."
Emily DeRuy is a Washington, D.C.-based associate editor, covering education, reproductive rights, and inequality. A San Francisco native, she enjoys Giants baseball and misses Philz terribly.