A new study out this month found the problem of untraceable dark money ads on Facebook is far worse than previously thought.
A team at the University of Wisconsin, led by Professor Young Mie Kim, captured and studied 5 million paid Facebook ads that appeared in the final weeks leading up to the 2016 election. The study, which will be published in the journal Political Communication, used a tool installed on Facebook users' web browsers, which works "like an ad blocker, but instead of blocking ads, it detects and collects them," with 9,519 active participants. The Campaign Legal Center said the study was "the first, large-scale, systematic empirical analysis that investigates Facebook political advertising."
The findings are shocking. The researchers found 228 groups who purchased political ads between Sept. 28 and Nov. 8 and identified 122 of those as "suspicious," meaning there was no publicly-available information about them either because the group's Facebook page had been banned or because no information about the group ever existed on the site or elsewhere. Groups like this are popular tools for shady political activity, and as we previously reported, Facebook isn't the only platform that makes this very easy: Twitter has an ad feature that allows advertisers to create fake profiles.
That means almost half the ads that appeared in users' feeds came from untraceable sources. At least one out of every six of these groups were traced back to Kremlin-linked Russian groups, according to the study, but the sources of the rest of these groups remains unknown.
The study also highlights the significant digital blind spot in election law. Digital ads only have to be disclosed to the FEC if they expressly advocate for or against a candidate; ads that mention a candidate but don't tell voters to vote for or against them would have to be disclosed if they ran on TV, but not online. Of the ads captured in the study, 25% of them would have been subject to disclosure laws had they run on TV, and 9% appear to have violated election law by engaging in express advocacy without disclosure.
G/O Media may get a commission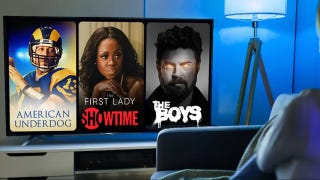 UNDER $1
99¢ Prime Video Channels
According to the Issue One/CLC analysis, "the volume of political ads sponsored by groups that never filed a report with the FEC was four times larger than that of groups that were registered as political committees or had filed expenditure reports with the FEC." That means there were four times as many ads that had zero disclosures about spending than those that did.
Dark money spending in US elections was been a problem since long before anyone started worrying about Russian interference, and this study shows the ease with which groups who want to influence voters—without leaving fingerprints on the final product—can use Facebook to do so. And the problem is only getting more urgent: Digital ads are expected to make up 22% of 2018 midterm ad spending.
Tech companies like Facebook and Twitter appear to have been sufficiently embarrassed by the last year's revelations—and the pressure put on them by politicians—that they're now supporting the Honest Ads Act, which would require disclosures akin to TV ad disclosures for advertising on major digital platforms. But the other major enemy of progress on transparency in political ad spending remains: the Republican party. The Honest Ads Act has some Republican support, but I'll eat my chewiest hat if a majority of Republican lawmakers ever back an effort to make elections more transparent, not less.