RuPaul's Drag Race has opened the drag world up to a wider and younger audience than ever before. But despite the growing elements of fandom within the subculture, it's important for fans to still behave like they're at a drag show when they're at a drag show—a lesson that one of Drag Race's most iconic past contestants had to teach someone recently.
Vivacious is a legendary New York club kid who competed on season six of Drag Race. You also might have seen her dancing back-up during Miley Cyrus' VMA performance in August. On Tuesday night, she performed and DJed a pride party hosted at Klubb 9 in Oslo, Norway. (You can listen to her full DJ set here.) While she was doing a number to C+C Music Factory's "Set Me Free," a young man from the audience hopped onstage in the hopes of snapping a selfie with her, sans permission. (Honestly: So rude.) Before the overzealous fan could take the photo, Vi cracked her fan open, blocking the phone's camera lens and ruining his picture.
Finish him. Flawless victory. Fatality, basically.
I caught a video of the interaction posted on Vivacious' Instagram, which she captioned: "How to read and handle a gay millenial jumping into your show #littleQueenWaitTillTheShowIsOverToTakeYourPicture."
G/O Media may get a commission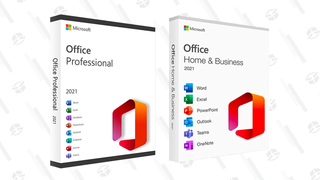 89% off
Microsoft Office Professional 2021 Lifetime License
Moved by the clip—and by Vivacious' absolute refusal to let anyone rob her of her subjectivity—I reached out to her to learn more about the encounter. I also hoped to find out if there are any other annoying things people do at drag shows that they should stop doing immediately. Here's what she told me in an email exchange early Wednesday morning.
This interview has been edited and condensed.
When did first notice that this 'millennial' was emerging from the crowd?
I have been doing this for years, so I sort of have a way of reading a person's energy before they even make their move. That part of your sixth sense that says, 'Oooh no, it's one of those' people—the kind who thinks somehow the world revolves around them.
How did you decide split-second to respond by blocking the photo with your fan? Is that why you've got a fan onstage in the first place?
I've been using fans for 23 years, cracking the fan to the beat of the music. It's my trademark specialty. No one does it better than me. Many queens over the years have tried to copy me, imitate me, but they cannot wield a fan the way I can. So, trust me when I say I know how to turn a fan out in a song, or, in this case, use it to snatch a queen up trying to upstage my show.
Blocking the selfie with your fan was genius.
Sometimes you have to use shade to breastfeed so people can learn better. For me, it's never about being mean—something I picked up from Mother RuPaul. Always handle with sass and class. Seal a queen without her knowing it, but others will know.
Did the audience member say anything to you after the performance?
No, nothing. He knew he got turned out. As far as his energy, I felt like he came to try and get his three seconds of fame. Instead, he met a fan staring right back at him.
Do people—or 'millennials' in particular—who come see you perform often try to sneak selfies with you during your shows?
Yes, they do. They will even walk backwards, trying to line up their cameras to take a pic, and I will use my fan and block it. Why, do you ask? It's simple, actually: common courtesy. If the man in the audience had actually asked, I would have stopped my show and taken a pic with him or very nicely told him to meet me after the show. For the record, it was announced that there would be an hourlong meet and greet after my DJ set. Maybe this one child cannot read.
One thing you should know about me is that I love my fans. I will always be there for them. Without them, there is no me. They didn't create me—I created myself. But I do appreciate a wonderful fan who 'gets it.'
Do you have any general etiquette rules or tips for newer fans on the drag scene?
Yes.

Never touch. Ask. Some fans see a fierce costume and, instead of admiring with their eyes, think they need to touch. That touch could be the touch that breaks a certain section of a costume out of place. Look with your eyes, not with your hands.
When a queen steps out on the dance floor to do her show, please part like the Red Sea, or her next turn might end up hitting you.
Do not ask for a selfie. Front-facing cameras have no flash. I didn't spend four hours painting on an illusion to have some camera without a flash take a picture of me. The queens and myself, we get dressed up to be seen, so use the side of your camera with the flash, huntyy.
Do not try and hug a queen above the chest. We do not need the weight of your hands or arms unintentionally dragging down our hair.
If you know a queen does not get along with someone, do not bring up that person's name to try and get a rile out of the queen.
Never give a backhanded compliment. Respect is a two-way street. I know I have it and will gladly give it, but you must also show it in return.
So, what else is new with Vivacious? Where can fans catch you next?
Right now, I am working on my album. I have a bunch of tracks that are in the studio being mastered, about to be released—very ballroom, dance-oriented music. The children will be kikiing. You can catch me this Saturday at The Monster in NYC. Brazil and Mexico coming up shortly.
Bad at filling out bios seeks same.