A convenience store surveillance video apparently taken the night before Ferguson, MO police officer Darren Wilson shot and killed 18-year-old Michael Brown in 2014 is raising new questions about the motive and events surrounding Brown's death.
The video was reportedly filmed at the Ferguson Market and Liquor store just 12 hours before a second widely publicized incident at the same store, which led to Brown's killing. An edited version of it was unveiled on Saturday by documentary filmmaker Jason Pollock at a South by Southwest screening of his investigation into Brown's case, Stranger Fruit.
The video, uploaded to The New York Times, shows Brown entering the store at about 1 a.m. on Aug. 9, 2014, and interacting with store clerks by apparently leaving a bag of what Pollock says is marijuana in exchange for two boxes of cigarillos. It's notable that one of the store clerks places the cigarillos in a plastic bag and hands them to Brown. Brown then returns the bag with the cigarillos to the store clerk before leaving.
Almost immediately after Brown's shooting hours later in the middle of the street by a white police officer who claimed he feared for his life, Ferguson police released a separate surveillance video from the store that helped push their narrative that Brown had robbed the cigarillos, an act that led to his death.
That police narrative, repeated in countless news accounts, helped convince a grand jury that Brown's shooting was justified, and it infuriated grieving family members who said it dishonestly portrayed the black unarmed teenager—a recent high school graduate who was heading to college—as a criminal.
G/O Media may get a commission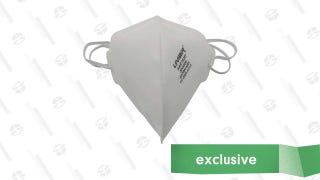 NIOSH CDC-Certified N95 Masks (10-Pack)
In the alternative context provided by the second video, the narrative could point instead toward a misunderstanding between Brown and different store clerks the following day. If true, it would raise grave concerns that authorities might have buried this second video to mislead the public, Brown's family, and outside investigators.
Speaking on MSNBC Live, New York Times reporter Yamiche Alcindor, who covered Michael Brown's story, said, "This video is critically important because it goes to how police characterized Michael Brown…It tells us that the police, in their investigation, were picking and choosing how to characterize this person."
Alcindor added: "This case, Ferguson, sparked so much for so many people, so to have this come out three years later, when we're still wrestling with the idea of what does it mean to be an African-American man in America, how should the police treat you, and how do you characterize people when they're victims of, or even get into altercations with, police officers…The idea is, at least people think, that you never get the whole picture of an African-American man in this country."
In a statement to The New York Times, Jay Kanzler, an attorney for the convenience store and its employees, said:

There was no transaction. There was no understanding. No agreement. Those folks didn't sell him cigarillos for pot. The reason he gave it back is he was walking out the door with unpaid merchandise and they wanted it back.