Cool self-aware teen Jaden Smith just landed his first fashion campaign, as the face of Louis Vuitton womenswear for Spring 2015. Decked out in a leather motorcycle jacket, a beige crocheted blouse, and a black pleated, patterned skirt, the 17-year-old owns it. This gender fluidity has been igniting reactions of praise and outrage and sparking discussions about masculinity.
https://www.youtube.com/watch?time_continue=2&v=vmcAWiAwWUE
This isn't the first time Smith has been seen in what has traditionally been considered women's clothing. He wore a skirt to attend prom with Amandla Sternberg, a dress to Coachella, and has also rocked a crop top and nail polish.
Recently, other male celebrities—namely Kanye West, Young Thug and Jared Leto—have also been consciously wearing women's clothing. Their self-assured sense of style mirrors many of the recent menswear collections seen going down the runways. Non-binary fashion is in full throttle; designers like Hood by Air, Nicopanda, Saint Laurent, Astrid Anderson, Rick Owens, JW Anderson, Acne, Vetements, and Gucci have been challenging what men can wear by putting male models in everything from heels and crop tops to dresses and skirts.
G/O Media may get a commission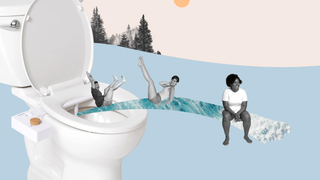 17% off
Tushy 3.0 Warm Water Spa Bidet Attachment
But, as Tom Kalenderian—executive vice president and general merchandiser for menswear at Barneys New York—told Mashable in September, men consciously wearing women's clothing isn't new: "The unisex movement is resurfacing from when it peaked in the late 1960s."
In the '60s and '70s, we saw both men and women wear clogs (often high-heeled), paisley blouses, ruffles and bell-bottom trousers. But while women in menswear has become mainstream, guys in womenswear has been mostly relegated to fashion runways, the LBGT community, and "eccentric" men. In the 1980s in Harlem, gay performers wore dresses and heels to compete in vogue ball competitions, paving the way for genderqueer fashion. Jean Paul Gaultier (in 1984), Vivienne Westwood (in 1996) and Hedi Slimane (in 2004) were some of the first modern designers to put men in womenswear. In 2011, there was a subversive boom, and brands like Givenchy, Comme des Garcons, Yohji Yamamoto, Rick Owens, and Thom Browne all put male models in skirts on the runway. Off the runway, musicians like Prince and David Bowie are known for their flamboyant, often womenswear-inspired sense of style.
Still, decades later, the public freaks out when a man wears clothing that appears to be too feminine, immediately linking his clothing to his sexuality. Jaden Smith—actor, rapper and occasional philosopher—has been criticized for his outfit decisions, by both the media and internet trolls. Bossip's headline to announce Smith's Vuitton campaign included the phrase "Dude, You're a Guy"—insinuating that the only way to make sense of him being in a skirt was that he was confused about his gender.
On Twitter, Smith was called everything from "weird" to "The Fresh Princess of Bel-Air." A writer for the Independent argued that Smith was encroaching on "transgender territory" because he was "wearing the trans uniform without stating he was transgender." This careless statement does more to support traditional patriarchal views on masculinity than it does to provide a voice for transgender people (FYI: Laverne Cox loves Jaden Smith's Vuitton ad).
Still, despite the outcry, men in garments usually worn by women is something that has been happening for a while now. For instance:

Men in Heels
Ironically, heels, much like the color pink, and tights, were a staple item for men before they were considered for women. Heels were first used to keep the foot in place when riding horses, and then came to indicate status and wealth—the higher the better. King Louis XIV of France was known for wearing heels with red soles, to give him height, style, and to illustrate his power. Eventually "enlightened thinking" came along and impractical clothing became solely feminine trappings. Despite the huge platform shoes of the '70s, these days we don't think of heels as masculine. But they have been famously worn by Prince, the New York Dolls, David Bowie, Elton John, and in more recent years, Ariel Pink.
Men in Skirts
Jared Leto, Jaden Smith, and EJ Johnson are among the celebrities who have deliberately worn skirts not expressly intended for men. In other cultures, men wearing skirts has nothing to do with sexuality, but with tradition; think of garments like sarongs (Southeast Asia), kilts (Scotland), and kanjis (Sub-Saharan Africa). In the U.S., men wearing skirts isn't widely accepted, which is why outrage ensues when male celebrities don them—it happened with Kanye in a kilt, David Beckham in a sarong, and Mos Def in a wrap. Even when A$AP Rocky and NBA Players Lebron James, Russell Westbrook and James Harden wore oversized shirts that were mistaken for skirts, people freaked out.
Men in Dresses
Like skirts, there are many cultures (Roman, Egyptian, Chinese, Japanese) where the traditional attire for men is a robe or dress. Other times, when men wear dresses it's usually seen as part of a performance—for doing drag or acting like a woman for a role or joke. But, often, the man wearing the dress is not attempting to act like a woman. Men can wear dresses confidently and still be presenting themselves as men: Think of Kurt Cobain's famous floral dress (which he wore on multiple occasions), Young Thug's sheer dress for a Dazed cover shoot, Lil B's lace dress (with earrings) for an ESPN TV interview, and Marc Jacobs's delicate gown at the Met Gala.
Men in Crop Tops
Men wearing crop tops became a trend in the '70s and '80s—it was as though the sporty "Let's Get Physical" look collied with college football. Johnny Depp wore a crop top in the '80s flick Nightmare on Elm Street; Will Smith had one on The Fresh Prince of Bel-Air; both members of Milli Vanilli bared their abs; as did Prince; and the hair band Twisted Sister. More recently, Kid Cudi helped to revive the trend—he wore a red cropped sweatshirt to Coachella in 2014. Through the years, brands like Calvin Klein, J.W. Anderson, and Astrid Andersen have showed various forms of crop tops in their menswear collections.
Culturally, the world is continuing to make strides to redefine gender roles and reconsider what it means to be a man or woman. A man in heels or a skirt is not an invitation to shame or question sexuality. Instead, it's an opportunity to think about why clothing would have rigid boundaries. As Iggy Pop famously said: "I'm not ashamed to dress 'like a woman' because I don't think it's shameful to be a woman."
Tahirah Hairston is a style writer from Detroit who likes Susan Miller, Rihanna's friend's Instagram accounts, ramen and ugly-but cute shoes.