Would Paddington Bear be allowed to stay in the United Kingdom if he arrived today?
Probably not, according to a recent op-ed by British immigration lawyer Colin Yeo.
"To avoid deportation, Paddington has only one hope: he needs to establish some sort of legal basis of stay," he wrote. "There are few promising options."
The question is strangely relevant in recent weeks. A new film about the bear, simply named "Paddington," hit UK theaters in late November (we don't get it until January). Like the original story, the movie looks at how he adjusts to his new home.
If you recall, the ursine traveler came to England as a stowaway from "Darkest Peru" after his aunt went into a home for retired bears.
G/O Media may get a commission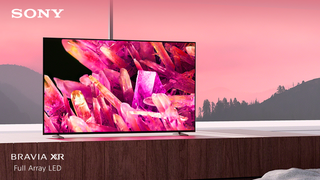 $400 off
Sony 55 Inch 4K Ultra HD TV X90K Series
The timing couldn't be more appropriate. The UK general election takes place in May and politicians — including Prime Minister David Cameron — have been trying to outdo one another with tough talk about cutting benefits for immigrants.
How intense is the debate? One particularly hawkish British politician recently blamed immigration for a traffic jam on the country's M4 highway that made him miss an event.
"It took me six hours and 15 minutes in the car to get here. It should have taken three and a half to four," said Nigel Farage, head of the right-wing UK Independence Party. "That has nothing to do with professionalism. What is does have to do with is a country in which the population is going through the roof, chiefly because of open-door immigration, and the fact the M4 is not as navigable as it used to be."
Conservative politicians haven't taken any pot shots at Paddington, but the story raises questions about how the UK should receive immigrants.
"You don't mean to say you've come all the way from South America by yourself?" his soon-to-be adoptive mother asked when she found him at the train station in the original book. "Aunt Lucy always said she wanted me to emigrate when I was old enough," he replied. "That's why she taught me to speak English."
The movie reportedly doesn't sugarcoat the way Paddington enters the country — without legal permission. Nicole Kidman, who starred in the film, said in a recent interview that the message of acceptance is much needed.
"It's about, we embrace strangers and people with cultural differences - and that's an important message right now, particularly for young people," she said.
Kidman stopped short of making a political statement, saying that immigration is an "incredibly complicated discussion," but that people "have to be humane."
As for Paddington's case, it would be affected by many variables: whether he was 18 years old or younger, whether he was fleeing a natural disaster. The outlook is pretty grim regardless, according to Yeo.
"He can appeal, and Paddington's mastery of the English language weighs in his favour," he wrote. "But everything else — his penurious financial situation, his unlawful immigration status — weighs against him. I would assess Paddington's prospects of success before an immigration judge as virtually nil."
Ted Hesson was formerly the immigration editor at Fusion, covering the issue from Washington, D.C. He also writes about drug laws and (occasionally) baseball. On the side: guitars, urban biking, and fiction.