NUEVA GUINEA, Nicaragua—It took community leader José "Chepito" Chavarría more than 48 hours to get his people to the protest march. First he had to organize transportation up the jungle-lined Punta Gorda and Caño Chiquito rivers, then get everyone on-board a caravan of cattle trucks that lumbered the rest of the way to Nueva Guinea, in central Nicaragua.
It was a long way to go for Earth Day, but the cause is urgent: To protect Nicaragua from a massive and potentially devastating $50 billion interoceanic canal project that would divide the country in half, jeopardize the region's future supply of drinking water, and expropriate prime agricultural land all to service a privately owned interoceanic waterway project controlled by an enigmatic Chinese businessman.
What could possibly go wrong with that plan?
G/O Media may get a commission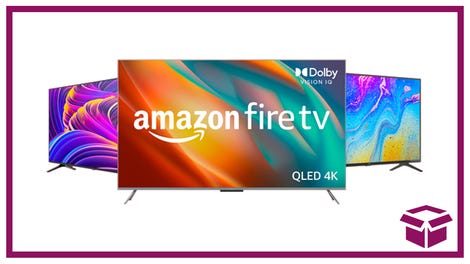 Ooh. stunning.
New Amazon Fire TVs
Nicaraguan campesinos whose lands stand in the path of the Chinese canal are determined the stop the project before it begins—something the country's feckless political opposition has been unable to do in the National Assembly. But where the politicians fail, the campesinos will succeed, Chepito insists.
"We are embarrassed by our National Assembly because they have proven to be inept—their hands are tied by (President) Daniel Ortega and they can't repeal Law 840 (The Canal Concession Law)," Chepito said as a he jumped down from the back of the truck, joining thousands of other Nicaraguan campesinos at Friday's anti-canal march. "If they are incapable of doing their jobs, they have to say so. Because if I can't do a job, I ask someone else to do it for me."
Friday's march, which took place 175 miles from the capital city of Managua—a place President Ortega rarely leaves— was protest no. 65 against the Chinese canal. And it was the largest one in a while.
Nicaraguan campesinos have been protesting the will-o'-the-wisp canal project ever since President Ortega started promoting the project in earnest three years ago. Without any real consultation or democratic process, Ortega and his ruling Sandinista Front (FSLN) rammed the sovereignty-compromising canal law through the legislature and awarded a sweetheart concession to an unproven Chinese businessman who created an overnight canal company, known as HKND.
In an unconvincing display of state-manufactured excitement, the Sandinistas and Wang Jing broke ground on their canal in December 2014 amid confetti poppers, big smiles and even bigger promises. They've made no remarkable progress since then, and the project remains shrouded in secrecy.
Two years later, HKND still hasn't been able to prove the technical, financial or environmental viability of the project. Many fear that if the project ever moves forward it would be a death sentence for Nicaragua's environment and fresh water supply, which is already strained by massive drought and rampant deforestation. The British group Environmental Resources Management (ERM) conducted a feasibility study that found there would be "significant environmental and social impact" from the project, and said that it's "a political decision" to move forward on it.
Campesinos who would be displaced by the project, which promises to carve a 13-mile wide trench through the middle of the country, have been on the frontline defending Nicaragua's sovereignty from a government-facilitated Chinese land grab. The project would displace 20,000 to 120,000 people, depending on whose calculations you believe.
The campesinos' national defense organization, "The National Council in Defense of the Land, Lake and National Sovereignty," has been the only opposition group in the country that has been able to push back against government repression and sustain protest against Ortega, who has been back in office for a decade, but in power forever.
But the campesinos aren't just marching in the jungle, where Ortega can't hear them. The group last week presented the National Assembly with a citizen-sponsored legal initiative to repeal the canal concession law, which grants Wang Jing control over the project and corresponding land for the next 50 to 100 years. The citizen initiative to repeal the law was backed by 28,000 signatures— a considerable feat in a countryside where people who are affected by the canal are spread out over more than a 160 miles of mostly rural terrain. But the Sandinista-controlled National Assembly summarily dismissed the bill, saying they were "incompetent" to process such an initiative, despite a constitution that says otherwise.
With the campesinos' legal recourses exhausted, all that's left now is the shouting: "No al canal!" and "¿Quién nos metió en este lío? Daniel y la Chayo Murillo!" or "who got us in this mess? Daniel (Ortega) and (first lady Rosario) Murillo!" (It sounds way better in Spanish.)
"As long as this law exists, we don't feel like we're the owners of our own lands," said protest leader Francisca Ramírez, a woman better known as "doña Chica."
"I came to defend my small piece of land, because if they take that from me I won't have anywhere to work," said Paulina Lira, another campesina woman who traveled by three hours by truck to come to the march.
"We don't want this canal because we eat from the land. They want to leave us with nothing. Where are we going to go if we have nothing? If we emigrate, we get thrown out of other countries. So why is this Chinese man coming here to bother us?" demanded protester Reyna Sosa.
Friday's march was peaceful and lasted several hours. There was no police repression, like in previous marches.
Stopping the mega-project is a David and Goliath battle. But Nicaraguans read their Bible, and they know that David ultimately slays Goliath.
"You can forget about this canal," says Samuel Pérez, who lives in the former contra territory of Nuevo Delirio. "We've put Daniel Ortega on his knees before."