Nicaraguan farmers are threatening to pull their kids from school if the government doesn't halt plans to build a $50 billion Chinese canal through their communities.
Anti-canal activists in several dozen farming communities along the canal route are circulating petitions asking parents to boycott the 2015 school year, which starts next Monday.
Community leaders in San Miguelito claim the army has been using rural schoolhouses during students' summer recess to billet soldiers and quell anti-canal protests in the countryside. Though the army has recently withdrawn from the area, residents fear the soldiers could return at any moment and occupy the schools again. And parents don't want their kids around when that happens.
"The soldiers were using the schoolhouses as military bases for their operations," community organizer Freddy Orozco told Fusion in a phone interview. He said the soldiers would "come and go" from the schoolhouses, and the kids, who witnessed the repression of the protests, were frightened to see their classrooms taken over by armed soldiers.
G/O Media may get a commission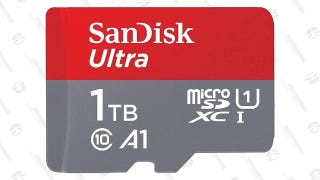 Save $75
SanDisk Ultra 1TB MicroSDXC Card
"My youngest son is 5 and he is afraid to return to school because he thinks the soldiers and police are going to be his teachers," said local resident Francisca Ramirez.
The Nicaraguan Army denies the allegations.
"The Army of Nicaragua does not use school installations for military purposes," Army spokesman Colonel Manuel Guevara told Fusion. "And we have not had any military personnel in any community of San Miguelito since Jan. 10."
Residents, however, say soldiers evacuated just last week, in response to their boycott efforts.
Now, instead of attending the first day of classes on Feb. 9, more than a thousand mothers and their truant children are planning to march on San Miguelito. Local leaders say the community will make its decision on Monday about whether to enroll their kids in school this year, or retreat to their homes and prepare to defend their land.
"Nobody is going to leave when they order us off our land, so we know the army is going to come back at any moment to try to force us out like animals," says 33-year-old farmer José Sequeira, a father to five school-age children.
Sequeira says he's ready to endorse the school boycott because, as the petition states, "We can't talk about education as a right when [the government] is violating the right to private property and putting everyone in the area in a position of helplessness."