Yesterday, Nicki Minaj took to Twitter to voice her displeasure at being snubbed from the nominations for this year's MTV Music Awards for Video of the Year. Minaj also took the opportunity to spill a bit of tea in the general direction of one of the "other" women who actually had made it onto the list of nominees. The only other women nominated for Video of The Year this year were Beyoncé and Taylor Swift.
Chances are that Minaj wasn't talking about Beyoncé. The two recently collaborated on Minaj's 'Feeling Myself' and Minaj has taken to releasing her exclusive content on Tidal, the streaming music service owned by Beyoncé's husband Jay-Z.
G/O Media may get a commission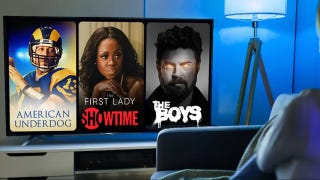 UNDER $1
99¢ Prime Video Channels
Judging from the tone and content of Minaj's tweets, there was a strong argument to be made that the rapper was subtly looking at Swift, and the 'Bad Blood' singer soon took notice. Swift fired off a few incendiary tweets of her own, criticizing Minaj for what she perceived as Minaj's inability to take issue with the men that had also been nominated for the award.
Minaj insisted that she wasn't really speaking to or about Swift directly, but suggested that if Swift understood where Minaj was coming from, that she take the opportunity to elaborate. Swift, true to nice girl form, invited Minaj to join her on stage should she actually win the award.
While it's unclear whether or not Minaj meant to drag Swift, there's an argument to be made in defense of Minaj's assertion that the 'Anaconda' video was, in fact, snubbed because of the kind of artist (black, curvy, and sexually-empowered) that she is.
Minaj has stated that the thing bothering  her the most about not being nominated is the fact that "other" artists have been praised for working in the very same visual space that she has. 'Bad Blood' bears virtually no resemblance to 'Anaconda,' but 'Anaconda' shares a common through-line with another one of Swift's popular songs of 2014: 'Shake It Off.'
Though this entire conversation revolves around Video of the Year, it's important to point out that like with most award shows, an artist's entire body of work for that year is just as much a part of the equation as any one song. In that sense 'Anaconda' and 'Shake It Off' aren't just songs, they are embodiments of their respective singers.
The videos for both 'Anaconda' and Taylor Swift's 'Shake It Off' were released literally within hours of one another and as different as they were, they existed in cultural conversation with one another.
Both 'Anaconda' and 'Shake It Off' feature women of color with ample backsides who are twerking in cutoff jean shorts, but their treatment of the women was starkly different Where 'Anaconda' came off as celebrating the women for their curves and dancing ability, 'Shake It Off' reduced them to headless, gyrating props for Swift to marvel and giggle at.
Swift rightfully caught quite a bit of flack for 'Shake It Off's' moment of tone-deafness, and the singer went on to put out 'Blank Space' and 'Bad Blood,' both of which are nominated for other video awards.
Unlike 'Shake It Off,' 'Anaconda' was plagued with accusations of being "too sexy" before the video even dropped, something that would be said again once the public actually saw Minaj's jungle gym-themed ode to asses. Minaj would eventually put out other videos, but it was clear that 'Anaconda' was meant to be her big splash of the year.
No one artist can lay the sole claim to featuring butts in their music videos, but the contrast in the receptions to 'Shake It Off' vs. 'Anaconda' is probably what Minaj was talking about when she tweeted:
Her point isn't that 'Bad Blood' didn't deserve to be nominated, but that her flagship music video was sidelined for being too provocative. Swift, who used similar imagery in a problematic fashion, got off with a slap on the wrist and was eventually nominated for having the (another) music video of the year.
It's not so much that Minaj has a beef with Taylor—she's explicitly said as much. And Minaj could also have been thinking about Miley Cyrus's 2013 "Wrecking Ball" video — another sexually provocative clip featuring a slender woman. It's clear that Minaj's issue is with an industry that she thinks doesn't value what she's bringing to the table because of her race and the way her body looks.