Last week, Serena Williams told The Huffington Post that she's studying pre-med (at UMass):

"I just wanted to do something different and I wanted to challenge myself. Being in tennis, I learned so much about my body and injuries, so for me it's such an easy switch. I'm just figuring it out and learning about myself and about my body."
Williams' rad story of her personal evolution is not the only one — there are lots of other stars who have made a point of pursuing higher education. Here are just a few!

Natalie Portman
The actress did a degree in psychology while she was filming the Star Wars movies. In a 2002 interview with Rolling Stone, she explained how she thought grades fit into her overall idea of her school work. "I think the really smart people don't get As. They realize it doesn't matter whether they hand in their paper on time. Whereas all my papers are on time. I don't challenge the guidelines much."

Brooke Shields
G/O Media may get a commission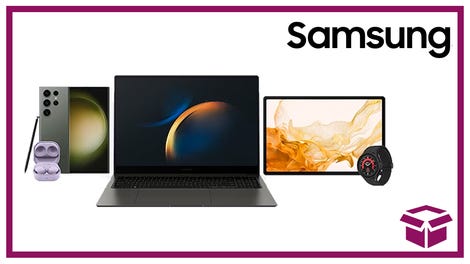 24 hour deals
Discover Samsung - Daily Deal
Baby model and child actor Brooke Shields graduated from Princeton in 1987. In true creepy fashion, when you Google information about Shields at college, hundreds of stories about her losing her virginity to actor Dean Cain pop up. Gross, guys.

Jodie Foster
The actor, producer, and director graduated from Yale in 1985 with a bachelor's degree in literature. She talked to film critic Roger Ebert in 1980 about how she made her choice.

"I visited several of the Ivy League campuses, and I liked Yale the best. Yale boys aren't your obnoxious rah-rah types. Harvard was too polite for me; I think they brought out all the polite people. Princeton was…too beautiful. The student rooms on campus at Yale have separate entrances, not like the big dorms on a lot of campuses. They even have coed rooms." She pondered that for a moment "Not that I'm sure I want to live in a coed room." She pondered that, and grinned. "On the other hand, I don't particularly want to be around a lot of girls, either. Summer camp was all right, and everything, but…"
Mayim Bialik
The Blossom star grew up, got out of Hollywood for a while, and became a neuroscientist. She told Engineering.com that her decision was simple:

"I went to college and studied what I was interested in, and that was science."
Dylan and Cole Sprouse
When their popular Disney Channel show ended, The Suite Life of Zak and Cody twins Dylan and Cole Sprouse moved to New York and started at NYU.
[vimeo 50665513 w=500 h=281]

Jonathan Taylor Thomas
When he graduated from high school in 2000, Home Improvement heartthrob JTT pulled a Portman and went to Harvard, and in 2010 graduated from Columbia University.
"To sit in a big library amongst books and students, that was pretty cool," says Thomas. "It was a novel experience for me."
James Franco
James Franco has famously attended several institutions of higher learning, including NYU, Columbia andYale. In 2014, he told Forbes:

"I left college when I was eighteen and then went back eight years later, after I established a career as an actor. When I went back I was there strictly to learn, and not just to get skills to find employment. Being there to learn what I wanted to learn made all the difference. I focused solely on classes that interested me. After that I went on to graduate school in writing, art, filmmaking, and English lit. I've had tons of incredible professors along the way. I want to now give some of that knowledge back to others."
Mara Wilson
Wilson rose to stardom with starring roles in films like Matilda and Mrs. Doubtfire, but eventually quit to study theater at NYU. She's now a writer and has a really funny Twitter account.
Emma Watson
Watson took some time off from acting to enroll at Brown University in 2009. During an interview with Rookie magazine in 2013, she said she liked the freedom Brown had to offer.

"I really like the fact that it has a very open curriculum, that there aren't any requirements. Really, I've kind of been in charge of my own education since I started out on Potter when I was 9 or 10, and I liked that I could design my own major if I wanted to, and I could take independent studies if I wanted to on subjects that weren't necessarily in the curriculum."
She eventually took a break to film the final movie of the Harry Potter franchise (as well as The Perks of Being a Wallflower and The Bling Ring), but graduated last May with a degree in English Literature.
Danielle Henderson is a lapsed academic, heavy metal karaoke machine, and culture editor at Fusion. She enjoys thinking about how race, gender, and sexuality shape our cultural narratives, but not in a boring way.