On Thursday in Paris, Chris Lehane made some noise on stage at the Airbnb Open, where the executive announced that the home-sharing service would begin to work with cities and policy makers and not against them.
Lehane, the company's head of public policy, was unable to make this announcement without a little bragging, however, telling the audience: "Home sharing is a big idea. So big that no army could ever really stop it. You are on the side of history."
Many on Twitter were taken aback by the strange military claim:
G/O Media may get a commission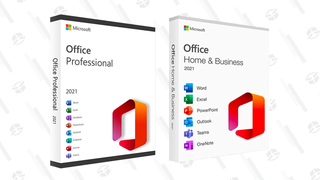 89% off
Microsoft Office Professional 2021 Lifetime License
So, assuming a shadow army isn't being raised in secret, what's Airbnb going to do to work with local governments? According to TechCrunch, for starters, Airbnb will be "sharing some data with governments and getting hosts to agree to a policy of listing only their permanent homes." The new initiative is called the very un-militarylike Community Compact.
What sort of data isn't very clear yet, but Airbnb spokesperson Nick Papas told TC that "the data will be anonymized to protect hosts' and guests' privacy."
Airbnb is fresh off successfully defeating a proposition that would have curtailed its services in San Francisco, as well as a tone-deaf advertising campaign that it almost immediately apologized for. It is currently trying to resuscitate its image, as Fusion's Kristen V. Brown reported.
Not everyone is impressed with the company's promises, however. On Wednesday, just before Airbnb proclaimed its invincibility, New York State Attorney General Eric Schneiderman called Airbnb's new corporate stance bunk. Schneiderman, who has long been a bee in Airbnb's bonnet, said the Community Compact:

is a transparent ploy by Airbnb to act like a good corporate citizen when it is anything but. The company has all of the information and tools it needs to clean up its act. Until it does, no one should take this press release seriously.
David Matthews operates the Wayback Machine on Fusion.net—hop on. Got a tip? Email him: david.matthews@fusion.net