The good news: Selma, Ava DuVernay's tense, gut-wrenching, beautifully crafted film about Dr. Martin Luther King's efforts to organize a protest in Selma, Alabama, has been nominated in the Academy Awards' Best Picture category. The bad news: DuVernay was not nominated for a Best Director Oscar.
This doesn't make sense.
Okay, sure, the Best Picture nod takes into account the film as a whole — the production of the movie. The producers are the real winners in that category, and they're the folks who go up on stage to collect the little golden statue. But DuVernay was at the helm. She was the creator of a work of art that humanized and breathed life into a legend, and truly deserved a nod for her achievement.
It's tough not to think about what might have been. A nomination for DuVernay would have made history, making her the very first African-American woman nominated for Best Director. In addition, she would have been the fifth woman ever nominated. The Motion Picture Academy has been handing out awards for excellence for 86 years, and only four women have ever been nominated. Eighty-six years. Four women.
G/O Media may get a commission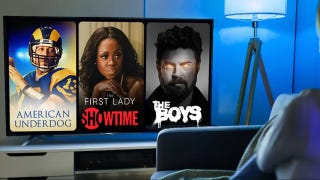 UNDER $1
99¢ Prime Video Channels
But what really stings is that DuVernay isn't being considered as a recipient for the highest movie honor for directing Selma, with its nuanced portrayal of Dr. King by David Oyelowo, bone-chillingly realistic violence, and heart-stopping, palpable tension. She made history come alive, feel alive. In a year of fractured race relations and mass protests, Selma was a skilled portrait of an American movement that is still very much breathing and bleeding on a daily basis.
Selma's journey toward Best Picture depended on DuVernay's guidance. As Manohla Dargis wrote for the New York Times in December, DuVernay was not the first director Selma was paired with, but she was the one who made it happen:

Ms. DuVernay had to do some rewriting of the script to work with a budget that was lower than she ended up with. What had been a liability for her — directing with tiny sums of money — became an unexpected asset and, unlike all the male directors, she was able to make the script and budget work together.
In addition, Dargis notes that DuVernay was truly in full command of the undertaking; she describes watching the director work as witnessing "a very smart filmmaker command a veritable army partly with hugs." And:

Before [DuVernay] started shooting, she recalled, she sat down with "every single person" on the crew and said, "I'm inviting you to work with me, so this is going to run in the way that I want it to run."
Bottom line: Ava DuVernay was robbed. She should have been nominated. To be sure, she has a bright future ahead of her, but the actualization of Selma warranted consideration for an Oscar. Unfortunately, it should come as no surprise that Du Vernay was snubbed. As the L.A. Times reminded us a couple of years ago, the Academy — aka the Oscar voters, the people making these decisions — is, like the people nominated for Best Director this year, "overwhelmingly white and male." And obviously interested in rewarding those most like themselves.