Of all the people to emerge as comedic beacons of hope in our Donald Trump-induced Mad Max-esque hellscape, perhaps none has been quite so enjoyable to watch as Minnesota Senator Al Franken.

While the comedian-turned-lawmaker may have fostered a national reputation for to his bombastic opposition to President Trump's agenda, Franken has, in fact, another—perhaps even nobler—calling: mercilessly dunking on fellow Senator Ted Cruz.
In Giant of the Senate, Franken's forthcoming memoir about his political career—which, thanks to the magic of Amazon's "Look Inside" feature, is partially searchable for key terms even before the book goes on sale—the former Saturday Night Live star spends page after page dragging the life out Texas' most infamous soup-lover.
"I like Ted Cruz more than most of my other colleagues like Ted Cruz," Franken writes in the book, citing Cruz's "decent sense of humor."
"And I hate Ted Cruz," he dead-pans.
Franken, who's apparently not an adherent to the "Minnesota Nice" stereotype, goes on to recount the time he told Cruz he's "full of shit" to his face after the Texas senator patronizingly stepped on fellow Minnesota Senator Amy Klobuchar's joke. In the anecdote, which was first flagged by Texas journalist Jonathan Tilove in the Statesman, Franken writes:
G/O Media may get a commission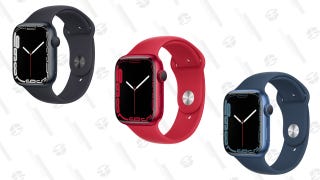 Up To $45 Off
Apple Watch Series 7
He also refers to Cruz as a "dunderhead" in an author's note explaining that the decorum required of senators prevents him from using the phrase "bullshit" in the book.

Franken also cited Cruz' college roommate, the writer and director Craig Mazin, who might be the only person left on Earth who loves dunking on Cruz more than himself.

Even Franken's wife, Franni, gets in on the action, joking that Cruz looks like the "lovechild of [disgraced Republican Senator Joseph] McCarthy and Dracula" after a passage detailing how quickly Cruz managed to shoot himself in the foot after arriving in the Senate.

Reader, I beg of you: Find someone who loves you as much as Al Franken loves dunking on Ted Cruz. You'll be happy you did.