Nobel Prize-winning scientist Sir Tim Hunt shared a story Monday about his trouble with girls. "Let me tell you about my trouble with girls," he said during a lunch at the World Conference of Science Journalists in Seoul, South Korea "Three things happen when they are in the lab: you fall in love with them, they fall in love with you, and when you criticise them they cry." Uh oh.
Turns out the World Conference of Science Journalists is not the place to be dropping sexist tidbits in public. Soon after the incident, journalist Connie St Louis publicized the incident on Twitter:
Sir Tim, 72, reportedly said that he doesn't think ladies shouldn't be in the lab—just that they shouldn't be in his lab. Though there's no official transcript of his comments, but several Twitter users have confirmed St Louis' account:
G/O Media may get a commission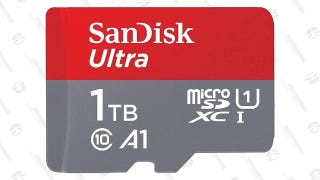 Save $75
SanDisk Ultra 1TB MicroSDXC Card
Naturally, the comments caused a stir. Sir Tim is a Royal Society Fellow, and the Royal Society went quick into damage control following the incident. Said the RS in a statement:

Too many talented individuals do not fulfill their scientific potential because of issues such as gender and the Society is committed to helping to put this right. Sir Tim Hunt was speaking as an individual and his reported comments in no way reflect the views of the Royal Society.
The statement, titled "Science needs women," also noted that "The Royal Society has acted to distance itself from reported comments by Sir Tim Hunt FRS about women in science."
And on Wednesday, Sir Tim caved and apologized as well. Apologized for being so honest, god. The Guardian reports:

Speaking on BBC Radio 4's Today programme on Wednesday, Hunt apologised for any offence, saying he meant the remarks to be humorous – but added he "did mean the part about having trouble with girls".

He said: "It is true … I have fallen in love with people in the lab and people in the lab have fallen in love with me and it's very disruptive to the science because it's terribly important that in a lab people are on a level playing field."
He also said that he "certainly did not mean to demean women, but rather be honest about my own shortcomings," and included this fine little nugget:

I'm very sorry that what I thought were light hearted ironic remarks were taken so seriously, and I'm very sorry if people took offence.
He also, per the BBC, noted that it was "a very stupid thing to do in the presence of all those journalists." So, not the most sincere of sentiments.
Fusion has reached out to Sir Tim for comment. We'll update if we receive a response.
Now, female scientists are using the Twitterverse to pointing out how not-sexy working in a lab really is:
And offering solutions on how to make sure the lab is a lust-free zone:
We happen to think working in science is very sexy, but aren't super worried about scientists falling for Sir Tim after all of this.
Danielle Wiener-Bronner is a news reporter.