Footage depicting the deaths of Philando Castile in Minnesota and Alton Sterling in Louisiana has helped reignite America's ongoing debate over police violence. As often happens, the role that can be played by police body cameras has featured in this debate. Body cameras may not be an ironclad solution to all of the problems in policing, but they are often seen as one marker of potential progress in the fight for transparency.
In North Carolina, however, that march toward progress has hit a stumbling block, thanks to newly passed legislation that some fear will significantly limit the public's ability to hold their local law enforcement accountable.
This week, North Carolina Governor Pat McCrory signed a new law that places police body camera footage explicitly outside the public record. It passed with strong majorities in both chambers of the state legislature, and is set to go into effect this October, the News & Record reported.
The proposal had been intensely criticized by people who argued that the new law will make it difficult, if not impossible in some cases, for communities to hold their local law enforcement to account.
G/O Media may get a commission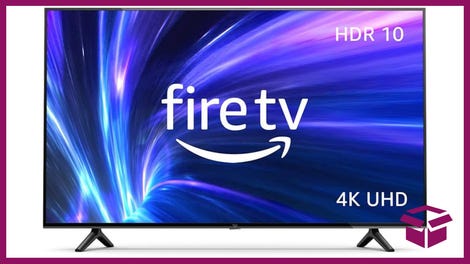 42% Off
Amazon Fire TV 50" 4K Smart TV
According to the new law, officially known as House Bill 972, footage taken using police cameras cannot be kept as part of an officer's confidential personnel file, and is not part of the public record, either. Instead, the "head of the custodial law enforcement agency" may grant access to footage (but not a copy) to someone actually filmed by law enforcement, or their guardians. That custodial representative may withhold access based on a number of considerations, including whether or not the footage is "highly personal" in nature, whether it depicts anything that could bring harm to someone else, or whether its disclosure would disrupt the "orderly administration of justice." Footage can be used in criminal court cases as well.
"If you hold a piece of film for a long period of time, you completely lose the trust of individuals," governor Pat McCrory said. However, he explained that "we've learned if you immediately release a video, sometimes it distorts the entire picture, which is extremely unfair to our law enforcement officials. In North Carolina we're going to walk that fine line and do the right thing."
Civil rights advocates argued that no "fine line" was actually being walked.
"Body cameras should be a tool to make law enforcement more transparent and accountable to the communities they serve, but this shameful law will make it nearly impossible to achieve those goals," Susanna Birdsong, who acts as policy council for the American Civil Liberties Union of North Carolina, told a local ABC affiliate.
"It comes down to a personal or moral level of whoever the police chief is," Raleigh Police Accountability Community Task Force member Wanda Hunter echoed. "If it's someone you constantly come head to head with, you can just hang it up there."
While those who have their requests for access to footage denied by law enforcement officials can petition judges for permission to see it, that process can be very onerous.
"People who are filmed by police body cameras should not have to spend time and money to go to court in order to see that footage," Birdsong said. "These barriers are significant and we expect them to drastically reduce any potential this technology had to make law enforcement more accountable to community members."
On the Friday before the bill was signed, a coalition of activist groups, including Black Lives Matter, Democracy NC, and the ACLU delivered a petition with more than 3,000 signatures to Gov. McCrory's executive mansion, urging him to veto the measure. The event was organized in part by the local Southeast Asian Coalition. Cat Bao Le, executive director of the group's Charlotte chapter, explained why her organization was involved  to North Carolina State University's Technician newspaper:

The context of our lives here is intricately tied to other communities that have overlapping needs. We're not an isolated community … This particular fight [against HB 972] started when one of our mentally ill Vietnamese community members, Chieu Di Thi Vo, was shot and killed by Greensboro police, and it was the first time an officer in North Carolina was carrying a body camera.
In signing HB 972 into law, Governor McCrory explained simply, "My goal is to protect those who protect us."