In an election year that gave Republicans the presidency, Congress, and a record number of state legislatures, it says a lot that North Carolina voters looked at their Republican governor, the architect of one of the country's most discriminatory anti-LGBTQ laws, and said, "No thanks."
It was clear on election night that North Carolina Gov. Pat McCrory had lost, and two weeks of tallying up absentee and provisional ballots has only added to his opponent Roy Cooper's slim lead. So McCrory has engaged in a desperate and deeply nefarious campaign to keep from losing the governor's seat.
The governor's legal team has filed protests over voting irregularities in half of North Carolina's counties. County election boards consist of two Republicans and one Democrat, and this wouldn't be the first time those officials have been put under pressure to tow the party line. But, so far, election boards in Halifax, Forsyth, Warren, Mecklenburg, and Durham, which includes some of the state's most-populated counties, have rejected the claims.
McCrory's desperation doesn't stop with election boards. His legal team also issued complaints against black voter outreach groups and implied that Cooper was actively enabling voter fraud.
"The real question people should be asking is, why is Roy Cooper fighting to count the votes of dead people and felons?" McCrory spokesman Ricky Diaz told the Raleigh News & Observer.
G/O Media may get a commission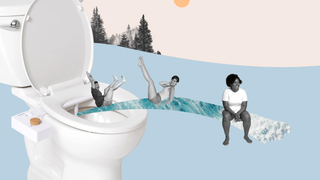 17% off
Tushy 3.0 Warm Water Spa Bidet Attachment
Cooper currently leads by about 7,000 votes. If the margin remains under 10,000, McCrory is allowed to request a statewide recount, but more counting of votes has only increased Cooper's lead this far. Which leads to another, even scarier aspect of North Carolina law McCrory could invoke.
The state's law allows for the Legislature to decide a "contested election" through a vote of both the state House and Senate, which are each controlled by Republicans. Furthermore, the law forbids state courts from reviewing the results of that decision, although there's nothing to say a federal court might not intervene.
In an interview with the News & Observer, House Speaker Tim Moore would not comment on whether or not his party planned to overturn the results of the state's election, which seems like the sort of thing you should comment on. Like, say, "No, we're not going to do that." Instead, Moore said this:

The media has certainly covered the constitutional provision that gives the General Assembly the authority to weigh in on that, but given that the elections are not finalized at this point, I think further comment would be premature.
It's worth noting that the state's transphobic HB2 is at the heart of McCrory's desperate struggle. Exit polls showed the reason North Carolina voters bucked the national trend, rejecting McCrory even while they selected Trump, and that was McCrory's decision to go after LGBTQ rights.
An electorate that would vote for Trump even as they sent a strong message against transgender discrimination is why I drink.