The Charlotte City Council is on the cusp of passing an ordinance granting legal protections for LGBT citizens, including—crucially—allowing transgender people to use either a men's or women's bathroom.
But according to an email obtained by the Charlotte Observer, Governor Pat McCrory is going to try his best to make sure the state overrules the city council, writing to two Republican councilmen that passing such a bill would "most likely cause immediate state intervention."
McGorry, it appears, thinks it might be dangerous to allow transgender people to use their preferred bathrooms. Via the Observer:

"It is not only the citizens of Charlotte that will be impacted by changing basic restroom and locker room norms but also citizens from across our state and nation who visit and work in Charlotte," McCrory said in an email to the council's two Republicans, Ed Driggs and Kenny Smith. "This shift in policy could also create major public safety issues by putting citizens in possible danger from deviant actions by individuals taking improper advantage of a bad policy."

McCrory, a Republican, continued: "Also, this action of allowing a person with male anatomy, for example, to use a female restroom or locker room will most likely cause immediate State legislative intervention which I would support as governor."
McCrory, a former Mayor of Charlotte, wrote that "changing basic long-established values and norms" is "misguided."
In a survey conducted by local gay-rights groups, 17 of 32 transgender people surveyed indicated that they'd been "harassed, assaulted or discriminated against" while using a bathroom in public. Critics say this survey is biased:

Tami Fitzgerald of the N.C. Values Coalition said most of the incidents described in the survey are what she calls "hurt feelings," incidents that she said the ordinance wouldn't affect.

"We have deep concerns about the so-called survey," Fitzgerald said.
Last year, a similar ordinance was defeated 6-5; this year, it's expected to pass 9-2.
G/O Media may get a commission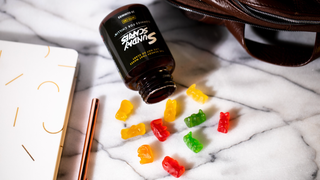 10mg CBD Gummies (22-Count)
"We're in rebellion against God," conservative preacher Flip Benham told the Observer. "This battle isn't about a bathroom ordinance. We're fighting a battle that has been fought since the Garden of Eden."
Michael Rosen is a reporter for Fusion based out of Oakland.