Gosh, who could have seen this one coming?
Everyone? Everyone could have seen this one coming? Well then.
As the drumbeat of women who have come forward to accuse Donald Trump of abusive or harassing behavior grows steadily louder by the day, a new report suggests not even members of Hollywood's A-listiest dynasty are immune to Trump's predatory belittlement.
According to former staffers who worked on NBC's Celebrity Apprentice, Trump repeatedly trashed Khloe Kardashian's looks in 2008, while she was a contestant on the show's 8th season. Speaking under condition of anonymity with The Huffington Post, one staffer claims Trump called Khloe a "piglet" and lamented not having cast "the hot" Kardashian. Trump's comments were essentially confirmed by a second staffer, who says the mogul referred to Khloe as a "fat piglet" and asked "Why did we get the ugly Kardashian?" during an off-camera break.
A third staffer told HuffPost that Kardashian's eventual ousting from the show was the end result of a seemingly personal vendetta against the reality star by Trump, who was alleged to have asked his staff "What's the reason we can get her off?" in an effort to force her out of the competition.
Reaction to these latest allegations was swift and unforgiving from Khloe's legions of online fans.
G/O Media may get a commission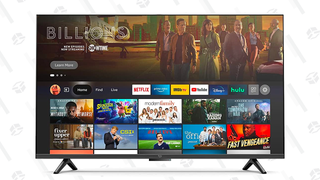 22% off
Amazon Fire TV - 50" Omni Series 4K - Early Access Deal
Khloe, for her part, has made no secret of her displeasure with appearing on the hit reality show, telling Chelsea Handler earlier this year that she "hated every minute" of her time on Celebrity Apprentice.
"I was put in situations I would never be in in real life. I went to home school. I don't know how to do a f—king PowerPoint and this and that. I don't care. But what is that going to prove in my life?," she explained to Handler during an appearance on the later's Netflix talk show. "Stressing myself out, and then dealing with him and about to be fired, I'm like, 'fuck you, I don't want to do this.'"
News of Trump's alleged treatment of Kardashian comes as part of the ongoing fallout from footage taken in 2005, in which the now-GOP presidential nominee bragged to then-Access Hollywood host Billy Bush about his ability to sexually assault women without consequence. Since that tape was made public by the Washington Post on October 8, a growing number of women have begun publicly accusing Trump of the very sort of behavior described in 2005.
Khloe is not, in fact, the only member of the Kardashian clan to have been subjected to Trump's sexist ogling. In 2014, Trump went into detail assessing Kim Kardashian's looks during an appearance on Howard Stern's radio talk show.
There is, however, one member of the Kardashian family whom Trump has been surprisingly open-minded with—Caitlyn Jenner, to whom Trump extended full use of the restrooms in his eponymous Manhattan skyscraper (an offer she subsequently accepted.) In March of this year, Jenner was filmed expressing doubts about Donald Trump's potential presidency, saying "I'm not a big fan because I think of his macho attitude." But, she later added, "I think he would be very good for women's issues."
It's not clear if Jenner has changed her mind now that such mountains of evidence have come out proving that Trump would, in fact, be very bad for women.