Bad news for backstabbing trash talkers everywhere: a federal court just ruled that it's perfectly legal to listen in on and record conversations overheard through a butt dial.
An appeals court in Ohio sided with a woman who recorded a conversation she overheard when Cincinnati airport official James Huff accidentally dialed her number and proceeded to dish in detail about power plays at the airport authority for a good 90 minutes.
The court decided that a butt dial is just like leaving your blinds open or your webcam on, in that it's not an invasion of privacy if people happen to take advantage of it, Nextgov reports.
At least one legal expert thinks this is nothing like leaving your curtains open.
"Leaving your curtains open is a conscious choice," said Eric Goldman, director of Santa Clara University's High Tech Law Institute, speaking to Bloomberg Business. "Butt dialing might be in a different category of conscious decisions. But the court sees it as sloppiness."
G/O Media may get a commission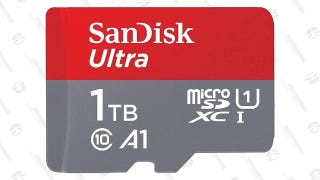 Save $75
SanDisk Ultra 1TB MicroSDXC Card
It seems that James Huff was a serial butt dialer. "At his deposition, James Huff admitted that he was aware of the risk of making inadvertent pocket-dial calls and had previously made such calls on his cellphone," the three judges on the court's panel wrote in their opinion.
Carol Spaw, on the receiving end of Huff's butt dial, at first tried to get his attention over the phone to let him know he'd called, but then she heard him plotting to possibly replace her boss, the CEO of Cincinnati/Northern Kentucky Airport, CBS reports. At that point, she called over a colleague to come listen in as well, and started recording on her iPhone.
Every time hhaahaa #everytime #pocketdial #creepy #creepyaf #creeper #callme #ihearyou #buttdial #haha #listening #nosy #laugh #giggle #funny #hilarious #comedy

A photo posted by Jenn (Ferdie) (@countrysidebelle) on Jul 13, 2015 at 4:01pm PDT
The conversation was between Huff and a colleague and later Huff and his wife. The court ruled that while Huff had no reasonable expectation of privacy, his wife should have expected her conversation to remain private, because they were talking in their private hotel room, Bloomberg Business reports. The case will be sent back to a local district court to deal with that part of the complaint.
But to avoid this whole mess, the judges said, all Huff had to do was take a few steps to prevent butt dialing. They argued that because he owns a phone that's capable of butt dialing, he should have known better.
Take the judges' advice, lock your phone before you start venting or plotting about your bosses, exes, or really anyone else for that matter:
"A number of simple and well-known measures can prevent pocket-dials from occurring. These include locking the phone, setting up a passcode, and using one of many downloadable applications that prevent pocket-dials calls," they remind us in the ruling.