Kanye West has been making headlines since before he even dropped his debut (and now seminal) album College Dropout in February of 2004. Now, West has 21 Grammy Awards, is consistently ranked as one of the greatest rappers alive, and is maybe going to run for president in 2020.
In retrospect, it's pretty amazing how much coverage College Dropout got compared to almost any artist's debut album. It was hyped by most major news outlets and reviewed in dozens of different publications. Kanye got this treatment because he had been standing on the edge of the spotlight for years.
Before his debut album, West had already been ghostwriting for other rappers for a few years, and had helped produce Jay Z's 2001 album The Blueprint. It was around the release of that album that he began to gain traction in the press.
Here are some of the earliest mentions of West I could dig up in a LexisNexis search:

G/O Media may get a commission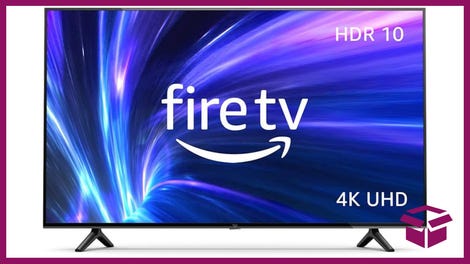 42% Off
Amazon Fire TV 50" 4K Smart TV
MTV, 2001
News coverage about Kanye West often focuses on what he says rather than the work he has actually produced. That's been a problem West has faced since the very beginning of his career.
One of the hardest things about finding early reviews of Kanye West is that, because he loves to talk, it seems that reporters would be handed golden quotes so easily that there was no need to add any commentary to their articles. Because of that, most of West's early reviews are actually just quotes from him talking about his work.
For example, take this article published on MTV.com in June 2001 by Shaheem Reid, in which Kanye is interviewed about his work as a producer on Jay Z's album:

"I also rap, so I be wanting to save beats [for myself]," said West, who is pursuing a record deal with several labels. "But a certain caliber of rapper, I be like, 'You can have it. You probably could do something bigger with it.' That helps me to blow my name. The song I did with Nas is 'You Can't Stop Me.' It's one of my favorites because it uses singing samples but it's real bouncy," West said.
Washington City Paper, 2001
The second mention of West comes in October of 2001, in an article for the Washington City Paper titled "Brooklyn's Finest," which dives into Jay Z's The Blueprint and the rap world around him:

"Production-wise, The Blueprint is more consistent and imaginative than any of Jay-Z's earlier discs. The lion's share of the studio work is handled by unknowns Just Blaze and Kanye West, both of whom seek to paint a nostalgic soundscape reminiscent not only of hiphop's glory days but also of black music before "soul" became a marketing tag for any old cotton-candy crooner."
This article is fun not only because it calls Kanye West an unknown, but because it comes from a very young Ta-Nehisi Coates, who is now an author and a well-known journalist for The Atlantic.
Chicago Defender, 2003
By 2003, Kanye West's life and career had been sent through a blender of drama. He had successfully signed his first contract as an independent artist and was working on a debut album when, in October 2002, he ended up in a terrible car crash.
Two weeks later, though, with his jaw wired shut and fresh off a hospital stint, West recorded a single "Through the Wire," which was released that December on his mixtape Get Well Soon. Effectively, this was the moment that launched West's career. Because of poor internet archiving, though, it's difficult to find coverage of West's work on blogs from this time period. Plus, West was still primarily seen as a ghostwriter and producer, as proven by this article titled "Mega-star rappers `Roc the Mic' with rhythmic fury, raging intensity," which Earl Calloway wrote for the Chicago Defender in July 2003:

"Noted ghostwriter Kanye West appeared onstage to show haters that he could do more than write classic verses for many of today's rap artists. He proved he could spit a few classic rhymes, too."
New York Times, 2003
By September of 2003, though, West was settling into a comfortable amount of notoriety. That's when he got his first New York Times mention:
"What do you call a hip-hop producer with a microphone? A bad idea, more often than not: most of them are better off letting the professionals handle the vocals. And yet three of this season's most exciting new releases come from vocalist-producers who seem to think they can do everything, and they just might be right.

Kanye West, from Chicago, is known for wistful, playful beats, including Jay-Z's ''Izzo (H.O.V.A.),'' Cam'ron's ''Dead or Alive'' and Talib Kweli's ''Get By,'' which borrowed a few notes from Nina Simone to create a track fit for double-dutch."
West's debut album came out in February 2004. With a New York Times review under his belt already, West didn't have many more hurdles to fame to clear. College Dropout debuted at No. 2 on the Billboard Hot 200 chart and sold 440,000 copies in its first week.
Most hip-hop producers with a microphone might be a bad idea, but not Kanye. He stepped right through the wire and into the light.
First Reviews is a new series that finds and evaluates early reviews of now-popular and well-respected artists.
Previously: Beyoncé rhymes with fiancé: '90s reviews of Destiny's Child
Kelsey McKinney is a culture staff writer for Fusion.