On Thursday, a clip of Emma Thompson's interview with BBC Newsnight went viral for, well, obvious reasons: the British actress impeccably dissected Harvey Weinstein and the "a crisis of extreme masculinity" that he represents — conveying, in the most Emma Thompson of ways, just how standard the former Hollywood producer's behavior is beyond the entertainment industry.
Thompson, who has won two Oscars and two Golden Globes throughout her decade-spanning career of acting and screenwriting, knows a thing or two about navigating Hollywood. So the idea that Weinstein's incorrigible history of sexual assault stands out as an anomaly, Thompson asserted, couldn't be farther from the truth.

"I didn't know about these things, but they don't surprise me at all and they're endemic to the system anyway," said Thompson. "What I find sort of extraordinary is that this man is at the top of a very particular iceberg."

A particular iceberg, Thompson continued, maintained by powerful men who characterize their persistent exploitation of power to force themselves on women as a "sex addiction" and not predation. "I don't think you could describe him as a sex addict, he's a predator," she said, referring to Weinstein. "But what he's as it were, the top of the ladder of is a system of harassment, and belittling, and bullying, and interference."
G/O Media may get a commission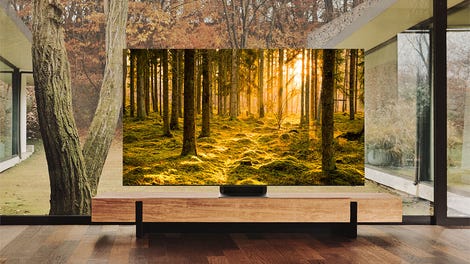 Up to 40% off
Samsung Smart TVs
Weinstein, who is allegedly seeking treatment for his "sex addiction" in Europe, just got caught before his friends. There are, of course, "many" more men like Weinsten in Hollywood, Thompson added. "Maybe not to that degree. Do they have to all be as bad as him to make it count? Does it only count if you really have done it loads and loads and loads of women," she questioned.

And the stingingly honest closer? "This has been part of our world, women's world, since time immemorial," she said. "So what we need to start talking about is the crisis in masculinity, the crisis of extreme masculinity, which is this sort of behavior, and the fact that it is not only OK, but it also is represented by the most powerful man in the world at the moment."
Sure, Emma Thompson might be British and therefore technically unable to lead this fine country, but seeing as the current president (and "the most powerful man in the world") is disgusted by constitutional rights, perhaps it's time we change those rules and let Emma Thompson run for president.