Donald Trump lost nearly a billion dollars in 1995—which tax experts say he could have used to write off paying any federal income tax for the next 18 years—according to documents anonymously mailed to New York Times reporter Susanne Craig, who has written some of the most damning stories this campaign about Trump's finances.
The three pages of tax returns obtained by the Times, which they verified with independent tax experts as well as Trump's old accountant who prepared them, show that Trump posted a net operating loss of $916,729,293 in 1995, which, through tax rules favorable to the very wealthy, means he could taken losses suffered by his various business interests (some of which were publicly-traded), claimed them as personal losses, and used that to write off potentially 18 years of federal income tax.
At Monday night's presidential debate, Hillary Clinton listed various reasons why Trump might not want his tax releases returned (he is the first candidate since 1976 to refuse to disclose his tax returns). He might not be as rich or as charitable as he claims, she speculated, or maybe he doesn't want everyone to know he doesn't pay federal income taxes.
The only previous times information like this has come out has been when New Jersey casino regulators put in a report obtained by the Washington Post that Trump had paid no federal income taxes in 1981 and Politico reported he paid little or no income taxes in 1991 and 1993. (Trump said at the Monday night debate that this made him "smart.") As Trump's losses in 1995 were the result of his many business and real estate failings of the decade, and as he was personally enriched by being able to write off his future income, New York University tax law professor Joel Rosenfeld characterized Trump's tax dealings to the Times as, "He has a vast benefit from his destruction." Meanwhile, thousands of his employees lost their jobs when his Atlantic City casinos went bust.
In a combative interview with CNN's Jake Tapper Saturday, Trump surrogate and former New York City mayor Rudy Giuliani referred to Trump repeatedly as a "genius" and stressed the point that Trump had a "fiduciary" responsibility to pay as little taxes as possible, though fiduciary responsibilities are almost always between a trustee and a beneficiary, ie a company and its shareholders. The Trump campaign made a similar point to the Times, that he has a "fiduciary responsibility to his business, his family and his employees" to pay as little as possible. A family with fiduciary responsibilities is not really a healthy-sounding family.
G/O Media may get a commission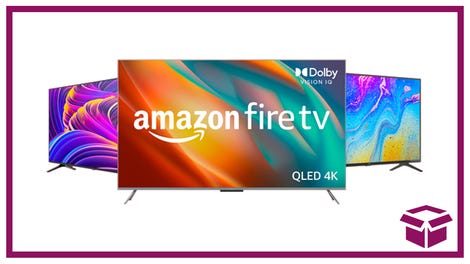 Ooh. stunning.
New Amazon Fire TVs
Studies regularly show that undocumented immigrants contribute billions to local and national economies.
Sam Stecklow is the Weekend Editor for Fusion.