More than 25.5 million Latino citizens will be eligible to vote in the 2014 midterms later this year, according to new projections released Tuesday by the National Association of Latino Elected and Appointed Officials (NALEO).
The number of voting-eligible Latinos is up by nearly 2 million from 2012 and is only expected to climb as thousands more U.S.-born children of Latino immigrants turn 18 each month.
Two years ago, Hispanic voters influenced the outcomes of Senate races in Nevada and Colorado, where they helped put Michael Bennet, now a leading Democratic voice on immigration reform, into office.
But Latinos aren't exerting as significant an impact on elections as they could. Just 7.8 million of the Hispanics eligible to vote are actually expected to cast ballots in 2014, according to the NALEO figures. While Latinos make up nearly 17 percent of the nation's population and 11 percent of the country's eligible voters, they are only expected to make up 7.8 percent of the 2014 vote.
G/O Media may get a commission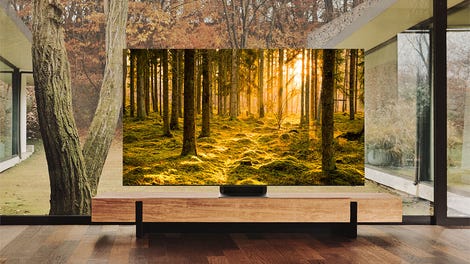 Up to 40% off
Samsung Smart TVs
Source: NALEO
Arturo Vargas, executive director of NALEO, said Tuesday at a news conference in Washington, D.C., that one reason for low voter turnout among Latinos is a sense that their votes won't matter. For decades, politicians running for office ignored Latino voters. That's swung in the opposite direction in recent years, with candidates pandering to Latinos.
Yet there has been little movement on issues important to the Hispanic community, chiefly immigration reform.
Vargas said he hopes "anger" at the lack of action will motivate Latinos to head for the polls. NALEO plans to run voter registration drives in the coming months, with efforts targeted in California, Texas and North Carolina where Latinos could impact both state and local elections.
But he's also worried about how a 2013 decision by the Supreme Court might hinder turnout.
The case, Shelby County v. Holder, crippled a key part of the Voting Rights Act that required states with a history of voter discrimination and low minority voter turnout to get permission from the Justice Department or a federal district court in Washington, D.C. through a process called "preclearance" before changing their voting laws. The court upheld the idea of preclearance but ruled that the old formula for deciding which jurisdictions should be subject to it was outdated.
Before the Supreme Court ruling, the law protected the voting rights of about 7 million Latinos, Vargas said. Now, he and other Latino activists are pushing Congress to pass a new formula to help protect Hispanic voters they say the court's ruling has left vulnerable.
Latinos overwhelmingly vote Democratic, and critics of the Shelby ruling say that Republicans have tried to limit the impact of Hispanic voters through things like voter identification laws and redistricting efforts.
Voting rights have "come under siege" in recent years, Vargas argued, pointing toward discriminatory redistricting efforts in Texas and erroneous voter roll purges in Florida that were stopped because of the preclearance requirement.
A NALEO poll of registered voters in 10 states indicates high bipartisan support for a "fully functioning" Voting Rights Act that protects voters, Vargas said.
An amendment was introduced in Congress several months ago to create a new preclearance formula, but it stands little chance of passing the Republican-controlled House, particularly ahead of the critical midterm elections.
Advocates know it will be a tough fight, but Vargas said he hopes the bill won't be stalled by the "paralysis" that seems to be gripping Congress right now.
"We have to restore confidence in our political system," he said.
Emily DeRuy is a Washington, D.C.-based associate editor, covering education, reproductive rights, and inequality. A San Francisco native, she enjoys Giants baseball and misses Philz terribly.