The NYPD is establishing a new anti-terror strike force that will train 350 officers in high-tech weaponry, in part to deal with street protests like the ones that have swept that city and others in the last few months, police commissioner Bill Bratton announced Thursday.
According to Capital New York, Bratton said these officers would be "permanently assigned to rove throughout the city, with rifles and machine guns, in anticipation of possible terrorist attacks."
The announcement has drawn instant criticism from activists and observers across social media, who say it represents an unacceptable militarization of the city's police force.
The plan is "the definition of militarized mission creep," tweeted Alex Vitale, Brooklyn College sociologist and The Nation contributor, who focuses on the politics of policing.
But in a statement sent to Fusion this morning, Mayor Bill de Blasio's press secretary Marti Adams indicated that the mayor is also behind the plan.
G/O Media may get a commission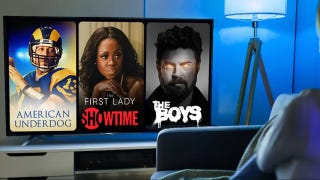 UNDER $1
99¢ Prime Video Channels
"The new patrol strategies announced by Commissioner Bratton yesterday embody the innovative approach to policing he is best known for," the statement reads. "At the outset of this administration, Mayor de Blasio and Commissioner Bratton committed to moving the NYPD in a new direction marked by more effective law enforcement strategies and a closer relationship between police and the communities that they serve, and the changes outlined by the Commissioner bring us closer to fulfilling that promise."
In addition to protests, "evolving" terrorist threats and "lone wolf" attacks are also points of concern for the plan, according to CBS New York.
The Strategic Response Group will "be equipped with all the extra heavy protective gear, with the long rifles and machine guns — unfortunately sometimes necessary in these instances," the commissioner said, referring to "our recent protests, or incidents like Mumbai or what just happened in Paris."
Local precinct officers who have helped with anti-terror operations in the past would now be freed up to focus on their local beats.
Bratton called it a "new patrol model for how we deploy resources."
The plan to equip police with controversial weaponry—along with Bratton's allusion to Black Lives Matter protesters in the same breath as the Charlie Hebdo attack—sparked an instant backlash online.
Bratton says he will pay for the unit through his regular budget and from federal Homeland Security grants. The plan will likely be taken on by the NYPD alone, as the department was suspended from the Pentagon's 1033 program in February 2013, according to the Defense Logistics Agency. That program provides military equipment to local police departments, free of charge.
Carol Schaeffer writes on global and breaking news. She researches resistance movements, policing, & international intrigue.
Daniel Rivero is a producer/reporter for Fusion who focuses on police and justice issues. He also skateboards, does a bunch of arts related things on his off time, and likes Cuban coffee.