There would be more black police officers in New York if so many black people weren't criminals, NYPD police commissioner Bill Bratton said in an interview published on Tuesday that quickly sparked outrage (and a demand for retraction from Bratton).
"We have a significant population gap among African American males because so many of them have spent time in jail and, as such, we can't hire them," he told the Guardian in a story about policing and the black community.
Bratton partly blamed the "stop and frisk" tactics of predecessor Ray Kelly for the problem, which he called an "unfortunate consequence" of the widespread arrests under the policy, often for low-level crimes. The "population pool [of potential officers] is much smaller than it might ordinarily have been," due to the tactic, he said.
But here's what makes his comments extra infuriating: Bratton himself has embraced stop-and-frisk, even if he wasn't around to see it play out in New York. He left his post as NYPD commissioner, where he innovated broken windows policing (seen by many as a pre-cursor to stop and frisk) in 1996, and made the move to Los Angeles as LAPD commissioner in 2002. He held the position until 2009, and under his watch, according to the New York Daily News, stop and frisks in the city skyrocketed:

In 2002, the year Bratton began his tenure at the Los Angeles Police Department, cops conducted 587,200 stops of pedestrians and drivers. Six years later, that number skyrocketed to 875,204 stops — a 49% spike, according to a little-noticed May 2009 report from the Harvard Kennedy School.
G/O Media may get a commission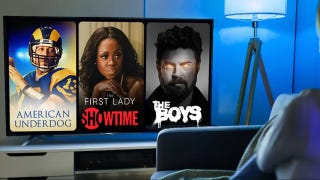 UNDER $1
99¢ Prime Video Channels
At its peak under Bratton in 2008, the paper reported, citing the Harvard study, 23 percent of all individuals stopped by L.A. cops were black, even though at the time they only made up 9 percent of the city's population.
That's not all. A few years after leaving the LAPD, Bratton was hired as a police consultant in Oakland. As part of his plan to curb crime in the city, he suggested that local officials approve stop and frisks as a vital policing method. They declined.
Bratton went so far as telling NPR last year that: "You cannot police without [stop and frisk]… If you didn't have it, then you'd have anarchy." But, he added, the tactic was "overused" in recent years.
During its last years in NYC, the tactic's use against people of color reached a fever pitch, resulting in a class action lawsuit. In 2013, just before current Mayor (and stop and frisk critic) Bill De Blasio took office, a federal court ruled that the tactic was unconstitutional.
Here's why: out of the 4.4 million stops between 2002 and 2012, a full 92 percent of the people stopped were non-white, according to the Guardian.
The demographics of the NYPD do not reflect the racial makeup of the city. According to the NY Daily News, blacks make up 16 percent of the department, while they make up 23 percent of the city's population. On the other hand, whites make up 54 percent of the department, while they make up 33 percent of the city. Hispanic numbers are more reflective, as they make up 24 percent of officers, with a 28 percent share of the population.
Bratton told the Guardian police departments all across the nation are having trouble hiring black officers, and that "a lot of it [is] because of anti-police sentiment" that has swept the country since last summer's unrest in Ferguson, Mo.
Other police chiefs have said as much, including Charles Ramsey, head of an Obama administration task force on policing and chief of the Philadelphia Police Department. "In the current environment we're in, policing is not all that positive," Ramsey told a City Council meeting in April.
Alex Vitale, a Brooklyn College sociologist and broken windows critic also interviewed in the Guardian piece, says that "it's not a diversity problem," but rather a political one.
"It is about the scope and role of police, which has expanded way too greatly. We've come to rely too much on police to solve these problems, and we're starting now to see the backlash to that," he says.
After publication of the piece, Bratton demanded a retraction from the Guardian, saying that it took his quote out of context. He sought to clarify that he was simply stating a statistical fact, not blaming stop and frisk for the situation.
"It's an unfortunate fact that in the male black population, a very significant percentage of them, more so than whites or other minority candidates, because of convictions, prison records, are never going to be hired by a police department," he told the New York Daily News.
"That's a reality. That's not a byproduct of stop-and-frisk."
Daniel Rivero is a producer/reporter for Fusion who focuses on police and justice issues. He also skateboards, does a bunch of arts related things on his off time, and likes Cuban coffee.