On February 2, 2012, NYPD officer Richard Haste shot and killed 18-year-old Ramarley Graham in the bathroom of his Bronx home in front of his grandmother and 6-year-old brother.
On Sunday, he resigned from the NYPD before he could be fired, the punishment an internal investigation deemed appropriate for having "exercised poor tactical judgment leading up to the discharge of his firearm" and having "acted with intent to cause serious physical injury leading to the death."
Graham, a young black man, was unarmed when Haste shot him after following him into his home without a warrant. Haste claimed that he had heard over his police radio that the teenager was armed.
He resigned from his position on Sunday night, two days after the internal investigation's conclusion.
"He can walk in, say I quit, and walk out the door. It's as simple as that. We can't do anything to him," an NYPD source told the New York Daily News. "We take his ID, we ask him to sign his resignation exit interview form, and that's it."
G/O Media may get a commission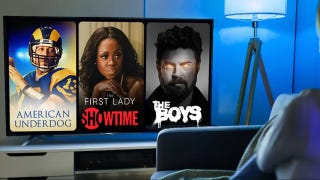 UNDER $1
99¢ Prime Video Channels
Graham's mother, Constance Malcolm, condemned the lack of disciplinary action against the man responsible for her son's death, ABC-7 New York reported.
"My son Ramarley was gunned down and murdered by NYPD Officer Richard Haste over 5 years ago. Richard Haste should have been in prison but instead of even firing him, the de Blasio administration let him resign," Malcolm said in a statement. "This is just another example that the de Blasio administration doesn't care about justice and accountability. Every step of the way, the Mayor and NYPD have dragged their heels and have refused to hold officers accountable for murdering my son."
The city reached a wrongful death settlement of $3.9 million with Graham's family in 2015. This case is the latest example of local authorities reaching settlements with families of unarmed black boys, teenagers, and men killed by police, including 12-year-old Tamir Rice's family in Cleveland, 17-year-old Laquan McDonald's family in Chicago, and 43-year-old Eric Garner's family in New York City. In all of those cases, as in Graham's, the police officer involved was not required to admit any criminal wrongdoing.
Haste is the latest in a string of police officers to evade charges after shooting unarmed black people.
A grand jury initially indicted Haste in June 2012 but a judge threw the case out on a technicality. A second grand jury decided not to indict the officer. U.S. Attorney Preet Bharara declined to prosecute Haste on civil rights violations because, he said, although Graham was not armed, "there are no witness accounts or physical evidence that materially contradict Officer Haste's statement that Mr. Graham appeared to be pulling something from his waistband at the time of the shooting."
We've reached out to the NYPD and de Blasio's office for comment and will update if we hear back.
Update, 12:45 p.m.:
"While the New York City Police Department aggressively—and publicly—sought Richard Haste's termination from the force, he resigned upon learning the findings of his disciplinary trial and the trial commissioner's recommended penalty," Austin Finan, a spokesman for de Blasio's office, told Fusion in a statement. "At the end of the day, the process ultimately worked: Mr. Haste is no longer a police officer."