In a sentencing hearing in downtown Brooklyn court today, a judge reduced the manslaughter conviction of Peter Liang, the former NYPD police officer who shot and killed Akai Gurley in the dark stairwell of an East New York housing commission building, to criminally negligent homicide. Liang was sentenced to five years probation and community service–meaning no jail time.
Outside the court during the sentencing Tuesday afternoon, two groups of protesters gathered on opposite corners of a busy intersection as traffic police directed a constant stream of cars around them.
A few dozen activists, including Black Lives Matter, held signs reading, "Justice for Akai."
"Indict, convict, send those killer cops to jail," they chanted. Meanwhile, a slightly smaller group across the road held signs that read, "Justice for Peter Liang" and "No Scapegoating," chanting those slogans just as loudly.
As news of the sentencing reached the crowd outside the court, Liang supporters cheered.
G/O Media may get a commission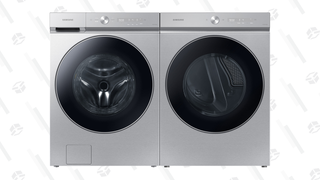 Get $500 back in credit
Last Chance: Samsung Bespoke AI Washer and Dryer Preorder
Across the road, protesters fell quiet. Then a woman shouted, "Another killer cop gets away with it!"
Earlier, several dozen people had lined up to enter the Kings County Supreme Court, where Justice Danny Chun handed down the sentence. The court room was filled to capacity with reporters and supporters of both the Gurley family and Liang.
Gurley's friends and family, sitting in the front row of the court, made statements to the judge about the repercussions of his death:
Liang's sentence is less than what was recommended by Brooklyn District Attorney Ken Thompson. Last month, Thompson said Liang should get no jail time, instead suggesting six months house arrest, five years probation, and 500 hours of community service. Prosecutors say they will appeal Chun's decision to reduce the conviction from manslaughter.
"When you say to the judge or the public that the officer only had one year on the job, that he was a rookie, you sound like you are trying to justify the murder that took place," said Danette Chavis, one of the protesters calling for the maximum sentence, or 15 years in prison.
Liang was convicted of manslaughter in February for killing Gurley in 2014. His sentencing Tuesday comes after a failed attempt by his defense attorneys to have the verdict dismissed on the basis that a juror had failed to disclose important information that could have biased the case. It marks the culmination of what has been a divisive and complex case.
Thousands of Asian Americans took to the streets in February, questioning why Liang, unlike many white police officers accused of killing unarmed black people, was convicted. And some Liang supporters say the punishment does not match the crime, since the rookie officer said he accidentally fired his gun after being frightened by a noise in the stairwell.
"The goal of this shouldn't be to free him," 22-year-old Jess Fong, a protester, told Fusion earlier this month. "The goal of this should be to highlight the racial inequalities and the problems and ask the question why is it that the cop that wasn't white got convicted when so many others should have."
For some protesters outside the court today, Liang's actions were the result of what they say is an unfair system that sends inexperienced officers into situations they're not equipped to handle.
"Sending police into dark stairwells like that is not fair," said Chung Lee, another protester, adding that public housing in New York needs to be fixed. Lucy Liu said Liang should have been fired from his job but not convicted of a crime. The fact that he was convicted at all, for some of the protesters, came down to him being Chinese American and not white, like the officers involved in other high-profile killings of unarmed black men, such as the Eric Garner or Michael Brown cases.
The NYPD's use of "vertical patrols," where police officers patrol stairwells in housing commission buildings, has also been brought into question by the case, and especially the deployment of inexperienced rookie officers to those assignments.
But for the Gurley family, the circumstances around why Peter Liang fired his weapon, or the fact that he was indicted where many white officers haven't, does not change his culpability for Akai Gurley's death.
After today's sentencing, the family, including Gurley's aunt, Hertencia Peterson, and his girlfriend Melissa Butler, left the courtroom, trying to avoid the media pack outside. A little farther down the road, with cameras and reporters surrounding them, they stopped by the side of a road and huddled together silently.