The New York Times on Saturday ran a profile of Tony and Maria Hovater, just your average 20–something, white, neo–Nazi couple from Ohio. Only one problem: People aren't too thrilled about what they consider to be the newspaper's normalization of modern–day Nazis.
Go figure.
The story, titled, "In America's Heartland, a Voice of Hate Among 'Normies,'" takes readers to New Carlisle, OH, a town of fewer than 6,000 people about an hour northeast of Cincinnati. It describes the Hovaters as, you know, "polite" and "low–key"—just your typical Midwestern couple. Except, of course, they are Nazis.
From the story:

In Ohio, amid the row crops and rolling hills, the Olive Gardens and Steak 'n Shakes, Mr. Hovater's presence can make hardly a ripple. He is the Nazi sympathizer next door, polite and low-key at a time the old boundaries of accepted political activity can seem alarmingly in flux. Most Americans would be disgusted and baffled by his casually approving remarks about Hitler, disdain for democracy and belief that the races are better off separate. But his tattoos are innocuous pop-culture references: a slice of cherry pie adorns one arm, a homage to the TV show "Twin Peaks." He says he prefers to spread the gospel of white nationalism with satire. He is a big "Seinfeld" fan.
G/O Media may get a commission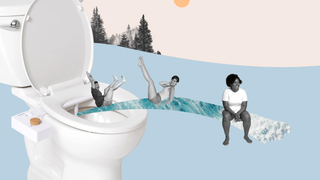 17% off
Tushy 3.0 Warm Water Spa Bidet Attachment
One of the best parts of the story, however, comes early on, in the second paragraph:

Ms. Hovater, 25, was worried about Antifa bashing up the ceremony. Weddings are hard enough to plan for when your fiancé is not an avowed white nationalist.
True that.

Criticisms of the story began piling up on Twitter almost immediately.

One of the more impactful responses so far comes from essayist Sean McElwee, who compared the treatment of white neo–Nazis in Ohio with a profile of Michael Brown, the black teenager gunned down in 2014 by white police officer Darren Wilson in Ferguson, MO:
And in case you were thinking about bringing a Nazi home to mom...

Read the entire story here and share your reactions below.