The Oakland Police Department will end a standing agreement with U.S Immigrations and Customs Enforcement agency that allowed local police officers to act as immigration officers while working on certain cases.

As noted by SFGate, the decision was not the police department's but the City Council's. On Tuesday, the board voted unanimously to rescind the agreement which formerly allowed Oakland, CA, police investigators to act as ICE officers while probing cross-border crimes (like human-trafficking and narcotic distribution). Meaning, police officers could enforce immigration law while investigating those crimes.

While the agreement was signed only a year ago by now former Police Chief Sean Whent, current police deputies are wary about its termination. Present Deputy Police Chief Danielle Outlaw expressed concern that ending OPD's agreement with ICE could jeopardize future investigations within the city (yes, that is actually her name).

According to The East Bay Express, Outlaw reiterated that police officers did not enforce civil immigration law, during a meeting last week with Oakland's city council.
Per The Express:
"We at OPD do not enforce civil immigration laws," Outlaw said.

She gave examples of how working with Homeland Security Investigations, a branch of ICE, led to the arrests of Oakland gang members on labor trafficking, illegal drug, weapons and sex trafficking charges.

"Our work with HSI allows us to have that federal arm, and to have that trans-national piece that we as a local municipal agency do not have access to," Outlaw said.
G/O Media may get a commission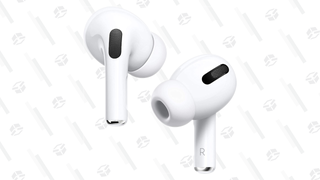 28% Off
Apple AirPods Pro Wireless Earbuds
City Council members viewed OPD's agreement with ICE differently. They voted to rescind the agreement out of a concern that the data shared between agencies could be used for deportations. Their concerns echoed the community's.

Brian Hofer, who chairs Oakland's city privacy advisory commission, said he was not aware of any instances where OPD's data was used to deport an undocumented immigrant, but he said ending the agreement was necessary to quell anxiety across the city.

"There is a chilling effect going on right now, a dramatic decrease in the reporting of crime from Hispanic communities," Hofer said. "Houston and Los Angeles police chiefs are already reporting that the Hispanic communities will not report crime because they are so afraid of the data getting into the hands of the feds. Any police officer will tell you that they need community trust, witness cooperation."

Oakland, CA, is a sanctuary city. Despite Outlaw's reassurance that police officers do not enforce immigration laws, many residents — as with sanctuary cities across the country — feared that they would be deported even if they had not committed a crime simply because their status might be shared with ICE through local agencies.

City Councilwoman Rebecca Kaplan wrote the resolution to rescind ICE's partnership with OPD. The resolution read, "The presence of ICE in Oakland is causing trauma in the community and causing a chilling effect that weakens cooperation with local law enforcement."

Other California cities have similar agreements to Oakland's. In Los Angeles, CA, ICE officials have presented themselves as local police agents while searching for undocumented immigrants. Although it's not illegal for ICE agents to identify themselves as police officers, it is illegal for them to enter someone's home without an adult's permission.

After the resolution passed, Kaplan said the City Council's decision would reassure Oakland's residents. She said, "In furtherance of Oakland's sanctuary city status, and encouraging cooperation with local law enforcement, I am thrilled that the council passed my resolution to rescind this agreement with ICE."