He arrived in North Carolina speaking no English and without any documentation.
Seeking a better life for her son, F.C.'s mother tried to enroll the 17-year-old Guatemala native in Forest Hills High School in Marshville. But the pair were reportedly told F.C. (who does not want to be identified by name) was too old and that he should enroll in a GED program at a local community college. There, they were told he was too young and to return to the high school.
The high school finally agreed to enroll him, but reportedly said he needed to take an English-proficiency exam first. However, F.C. couldn't complete the exam because it was in English. Finally, after much back-and-forth, an administrator reportedly helped him fill out an enrollment application and he was admitted to the school.
"I only wanted to attend high school, study hard and make a better life for myself," F.C. said in a statement. "Every time my mother tried to enroll me in school, we encountered excuses and obstacles. It should not be so difficult to attend high school."
The Southern Poverty Law Center (SPLC) and a coalition of advocacy groups filed a complaint with the Department of Justice alleging discrimination against F.C. and another young Honduras-native due to their undocumented status. That complaint is currently under review.
The district spokesman, Rob Jackson, wrote in an email that, "Though the school system has received a copy of the complaint, the Department of Justice has not contacted Union County Public Schools to date. None of the agencies filing the complaint contacted the school system prior to filing this complaint…The school system does believe that many of the allegations in the complaint are inaccurate."
G/O Media may get a commission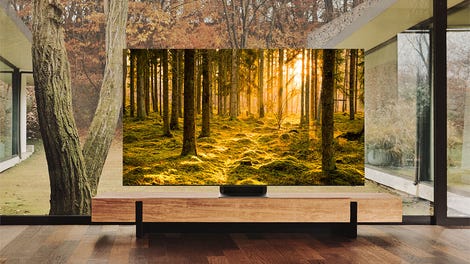 Up to 40% off
Samsung Smart TVs
Groups like the ACLU and SPLC say such discrimination goes on in schools across the country and have filed formal complaints urging the government to protect such students.
In light of those complaints, the Obama administration on Thursday issued a strong warning to schools that they are required by law to educate undocumented students.
The warning came in the form of a "Dear Colleague" letter to schools and districts aimed at clearing up confusion around what schools can and cannot ask for when students enroll. The Education and Justice Departments say misguided practices have had a chilling effect on student enrollment.
Some schools have reportedly demanded Social Security numbers or driver's licenses, administration officials said, which they cannot legally require.
The letter essentially reads, "Hey, we'll give you the benefit of the doubt that these missteps stemmed from confusion. But here are very clear guidelines, so clean up your act. If you don't, prepare for consequences."
Those consequences could come in the form of reduced federal funding for education. More than 10 percent of primary and secondary school funding is from the government, a source of income cash-strapped schools are reluctant to jeopardize.
Acting Assistant Attorney General for Civil Rights Jocelyn Samuels said on a press call that states have worked quickly to comply, particularly when they are informed that the government is not above taking legal action to enforce the rules.
The warning comes a day after the same two government agencies issued another "Dear Colleague" letter reminding public universities that considering race in the admissions process is acceptable, and goes along with the president's repeated statements that he plans to "take action" this year with or without help from Congress. He signed an executive order increasing the federal minimum wage, for instance, after proposals to raise the national minimum wage stalled in Congress.
Administration officials denied on a call, however, that this latest guidance is intended to put pressure on Republicans to pass immigration reform.
According to the Department of Homeland Security, there are about 1.1 million undocumented students under age 18 living in the United States. In 2011, after a Supreme Court ruling that said those students have the same right to public education as their documented peers, the Education and Justice departments issued guidelines spelling out as much.
But since then, Attorney General Eric Holder said during the press call, the administration has heard "troubling reports" about a lack of compliance. The Education Department has received 17 complaints from Arizona, Colorado, Washington, D.C., Kansas, Louisiana, Michigan, Missouri, New Mexico, North Carolina, Ohio, South Carolina and Virginia that schools were not complying with the ruling. The Justice Department has also received complaints of misdoings in states like Florida and Texas, and launched a widespread investigation in Georgia.
Alabama passed an immigration law several years ago that would have required students to show documentation. While that component was quickly shot down, administration officials said it still contributed to confusion in the state and fear among some undocumented parents. Samuels said the department found Alabama families withdrawing students out of concern and confusion about the law in that state.
One woman who declined to be shown on camera told ABC News when the law was first enacted that she was pulling her nephew from school and moving to California.
Few victims are willing to come forward to talk about the discrimination, for fear of repercussions like deportation. The fact that the victims remain in the shadows makes identifying and solving the problem even more challenging. None of the families Fusion reached out to was willing to speak on the record.
Preventing students from enrolling because of their immigration status is "unacceptable," Education Secretary Arne Duncan said on the call, and "must change."
It's "imperative that we do everything in our power to end policies or practices that deny this right to those who are constitutionally entitled to it," Holder said.
The newest guidelines, available in English and Spanish, are a clarified version of the 2011 guidelines.
Emily DeRuy is a Washington, D.C.-based associate editor, covering education, reproductive rights, and inequality. A San Francisco native, she enjoys Giants baseball and misses Philz terribly.