President Barack Obama said U.S. isolation of Cuba has failed and needs to be scrapped to to rebuild diplomatic ties and begin a "new chapter" in relations with the island nation.
Obama on Tuesday rolled out sweeping changes to America's policy towards Cuba, including opening an embassy in Havana for the first time in five decades.
"We will end an outdated approach that, for decades, has failed to advance our interests, and instead we will begin to normalize relations between our two countries," Obama said during a speech from the Cabinet Room of the White House.
The president criticized the embargo on Cuba, saying "neither the American, nor Cuban people are well served by a rigid policy that is rooted in events that took place before most of us were born."
The release of American contractor Alan Gross from a Cuban prison removed a "major obstacle" to normalizing relations with the island nation, Obama said.
G/O Media may get a commission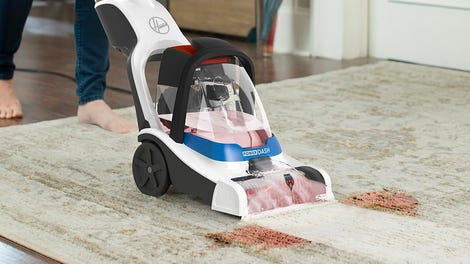 26% Off
Hoover PowerDash Pet Compact Carpet Cleaner
U.S. and Cuban officials held talks over many months to end the "wrongful imprisonment" of Gross. The president noted that Pope Francis made a personal appeal to both he and Cuban President Raúl Castro to resolve Gross' case and the secure the release of three Cuban intelligence agents who were in jail in the U.S.
Cuba also released a U.S. "intelligence asset" who was in Cuban jail for two decades. The person, a Cuban-national who has not been named, played a major role in providing information that led to the arrest of members of the spy ring known as "the Wasp Network," including the so-called Cuban 5 — three of whom were released by the U.S. on Tuesday.
"Having recovered these two men who sacrificed for our country, I'm now taking steps to place the interests of the people of both countries at the heart of our policy," Obama said.
Obama detailed the steps the U.S. is taking to rebuild relations with Cuba, including opening an embassy in Havana and starting the process of removing Cuba from the list of state sponsors of terror.
While the Cuban embargo remains in place, the Obama administration is expanding trade and travel with Cuba, something the president said will benefit people in both nations.
The government is loosening some restrictions on remittances to Cuban nationals, exports to small businesses, and expanded banking ties.
"I believe that American businesses should not be put at a disadvantage, and that increased commerce is good for Americans and for Cubans," Obama said.
Obama added that he wants to have an "honest and serious debate" with Congress about lifting the embargo. Congressional support, however, might be a tall order.
Despite efforts to improve relations with Cuba, Obama said he is under "no illusion" about the Cuban government's human-rights abuses.
"The United States believes that no Cubans should face harassment or arrest or beatings simply because they're exercising a universal right to have their voices heard, and we will continue to support civil society there," he said.
At the same time, the president directly addressed his critics during Wednesday's speech, saying that the U.S.'s policy of isolating Cuba has failed.
"I do not believe we can keep doing the same thing for over five decades and expect a different result," he said.
A number of Cuban-American lawmakers in both political parties have slammed Obama for reestablishing diplomatic ties with Cuba, saying he is rewarding the Castro government for cracking down on its citizens.
Obama said it doesn't serve U.S. interests to push Cuba towards collapse.
Obama sprinkled in Spanish throughout the speech, making the case for normalizing relations between the U.S. and Cuba.
"Change is hard in our own lives, and in the lives of nation's, but change is even harder when we carry the heavy weight of history on our shoulders," he said.
The president told the American people that he was initiating change, because it is the "right thing to do."
"Todos somos Americanos", said Obama.
Geneva Sands is a Washington, D.C.-based producer/editor focused on national affairs and politics. Egg creams, Raleigh and pie are three of her favorite things.
Jordan Fabian is Fusion's politics editor, writing about campaigns, Congress, immigration, and more. When he's not working, you can find him at the ice rink or at home with his wife, Melissa.