HAVANA, Cuba—Thousands of Cubans huddled around TV sets across the country this morning to watch President Barack Obama promise to "bury the last remnants of the Cold War in the Americas."
In an historic, 30-minute speech—the first by a U.S. president in Cuba in nearly 90 years—Obama spoke about the importance of narrowing the gap between the two countries.
"Havana is only 90 miles from Florida, but to get here we had to travel a great distance —over barriers of history, theology, barriers of pain and separation," the president said.
Obama's speech was delivered inside Havana's stately Gran Teatro and was simultaneously translated into Spanish for Cuban state TV. And Obama's speech, which included phrases in Spanish and echoed his campaign promises of hope and change, was clearly directed at the people watching at home.
G/O Media may get a commission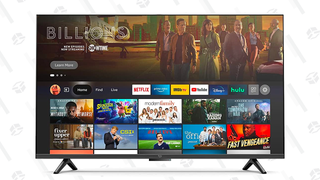 22% off
Amazon Fire TV - 50" Omni Series 4K - Early Access Deal
"Creo en el pueblo Cubano. I believe in the Cuban people," he said. "This is not just a policy of normalizing relations with the Cuban government. The United States is normalizing relations with the Cuban people."
He added, "I want the Cuban people— especially the young people— to understand why I believe that you should look to the future with hope; not the false promise which insists that things are better than they really are, or the blind optimism that says all your problems can go away tomorrow.  Hope that is rooted in the future that you can choose and that you can shape, and that you can build for your country."
The new generation has to move beyond the grudges of their parents' and grandparents' generations. "The Bay of Pigs took place the year that I was born," the president said, repeating his call for Congress to life the embargo.
Despite old differences, there remain many ties that bind the people of Cuba and the United States —including baseball and music. But it's not quite a lovefest, either. The very real and important differences between the two countries, and it's all on the table for discussion, Obama said.
"I've had frank conversations with President Castro," he said. "…Here's what the Cuban people need to understand: I welcome this open debate and dialogue. It's good, it's healthy, I'm not afraid of it."
Democracy is a process, Obama said. It's about building, not destroying.
"Many people asked for me to come here and tear something down," Obama said, referencing Ronald Reagan's famous visit to the Berlin Wall when he challenged Mijaíl Gorbachov to 'tear down this wall.'
Instead, Obama called on Cubans, especially young Cubans, to "build something up and build something new."
You know, like Miami.
"In the United States we have a clear monument to what the Cuban people can build—it's called Miami," Obama said.