On Tuesday morning, Attorney General Jeff Sessions announced President Trump's decision to terminate Deferred Action for Childhood Arrivals (DACA), a program that protects roughly 800,000 undocumented youth from deportation and allows them to apply for work permits. Congress will have six months—until March 5, 2018—to come up with a replacement before DACA expires. Those who have a DACA permit that expires during that period can apply for a two-year renewal, as long as they submit their applications by October 5.

In his statement, Sessions called DACA, an Obama-era executive order, "an unconstitutional exercise of authority by the Executive Branch." He also blamed the program for "[denying] jobs to hundreds of thousands of Americans by allowing those same jobs to go to illegal aliens." (As Slate reports, there isn't any evidence that DACA beneficiaries have taken jobs that would have otherwise gone to naturalized or native-born Americans.)
The fear of losing their ability to work legally—as well as protection from being deported to countries they barely remember—has left many DACA recipients wrestling with anger, anxiety, and disappointment, all while trying to stay hopeful. Splinter spoke to DACA recipients about what the program has meant for them and their families, their reactions to Trump's decision, and how they plan to move forward.
G/O Media may get a commission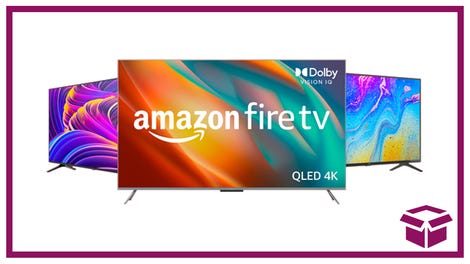 Ooh. stunning.
New Amazon Fire TVs
Alejandra Matias, 17, high school senior
I feel heartbroken. When I first heard about DACA, I was really happy to get my Social Security number and California ID. I could work without any trouble and help out my family, like I've always wanted. Now I'm disappointed and anxious that I have to go back to how it used to be, when I had to find jobs that don't require a Social Security number, which is really hard because you need a Social Security number for everything. I've struggled so much, and now I'm going to have to go back to struggling.
For a while, my dad was paying most of our family's expenses. He works as a landscaper. The slightest opportunity to help him financially, I took it. When I hear him say that his back hurts, it breaks my heart. Now that they took DACA away, it's putting even more pressure on him. Nobody wants to see anyone in their family hurting themselves.
I was in the car on Tuesday listening to the radio when I heard about DACA ending. When I got to school, that was the only thing I was thinking about, full blast. "What am I going to do? What's going to happen? What's next?" For now, I don't know. I'm going to email the person who helped me get my DACA and ask if it will be possible for me to review it. It's up for renewal in February 2018.
I'm really, really nervous. Hopefully they come up with an alternative to save DACA. I've also thought about how all my information is on my application. They know where I live. What if they knock on my door? I'm nervous about that because my family is undocumented.
I'm also really angry, which encourages me to fight back even more. Trump doesn't know what we have to go through to get to where we are. (Editor's note: Alejandra immigrated to the U.S. from Guatemala when she was five years old. The vehicle smuggling her and her parents crashed, hurling her mother from the window and killing her.) We leave our families just to come here, only to find out this is not the right place for us. We come here because we have to, to keep our families alive.
I really do want to think everything is going to go well, but I don't want to get my hopes up too much because I don't want them to crash in six months. But I still have my dreams and goals. The fact that DACA is ending is not going to change my goals to go to college and get a full-ride scholarship. Nothing is going to stop me from accomplishing that.
Kevin Hernandez, 18, college sophomore
I had my appointment to get my fingerprints taken as part of my DACA renewal process on Tuesday at 11am. I heard the news at 9am. I was worried. If I showed up, I wasn't sure if ICE was going to be at the door, or if something else was going to happen.
When Trump got elected, I felt that shock, like you don't believe it. But learning about DACA felt a lot more real. I did tear up a bit. When I was growing up, the goal was always that I was going to college. DACA came along and gave me hope. Even if I don't get federal financial aid, I get financial aid from the California DREAM Act. It means a lot, just being able to have that extra money for school, and not worry about not being able to get a job. My dad works at Taco Bell, and my mom works in a factory. We're living check by check. We live in one room that we rent. DACA would allow me to build something for myself, and uplift my family, my community, pretty much everyone.
My goals are going to stay the same. I'm going to graduate from college, become a doctor, buy my mom a house, put my family in a better community, and help my old community. I think the worst case is deportation. It would start off with my parents, who are undocumented, and me. We would want my sister, who was born in the U.S., to stay here. We don't have anything in Mexico. We can't go back there, where we have no hope and no support. My parents started at ground zero when they got here. If I go back to Mexico, I'll have to do the same thing. My education and everything will be put on pause. I didn't grow up there. I've never gone back. My dad feels guilty that we have to go through this.
Cuahuctemoc Salinas, 25, community organizer and housing advocate
I don't know if I'm being overly optimistic, but with the pressure a lot of us DACA recipients are going to put on Congress, I think Congress will definitely have our backs. I don't know why I'm so positive. I think all of my life I've had to be positive.
I thought about emailing my employer and asking what the next steps are. DACA is going to be available until my expiration date in 2019, so that's giving me a bit of hope. But then again, I'm tired of feeling like things are getting taken away from us. It's making me more vigilant in terms of fighting for my community.
I definitely want to attend rallies and make sure my voice is heard. I feel like a lot of DACA people are trying to heal right now, and that's extremely valid. I'm trying to heal, as well, but I want to make sure we approach organizations and ask how they are supporting their employees through Sessions' announcement. I want to focus on giving people space and allowing them to come to me if they need help, and vice-versa. DACA didn't make me, I made it—so I'm not going to stop the activism I did before DACA.
DACA was just a Band-Aid that could easily be removed. Now that it [could be] removed, it's just building this fire in me to strengthen my voice even more. I'm trying to be strong for the people that have been with me. Yes, I'm scared about the future. But right now, what Trump has caused me to do is be strong and have this mindset of, "You're not going to defeat us."
Jesus Chavez, 26, undocuqueer activist
I majored in social welfare in college, and DACA lets me pursue social justice as a career. It has been a great weight off my shoulders. I have two other siblings who also have DACA. We all graduated from college, so it was also an opportunity to bring stability to our family. My parents work in the fields, so they have always lived paycheck to paycheck. They still don't have a savings account or a retirement fund. Once my siblings and I got DACA, we've been able to have a savings account and a stable income. And of course, with our jobs, we have health insurance.
We just started having conversations about "Let's save up and buy a house" last year. All these dreams—what it means to be an American, to provide for your family and eventually own a home—were becoming a reality. Are we going to be back in the shadows now?
I was on the train listening to Sessions' statement on my headphones. Inside, I was screaming, "What the heck? Why is he saying this?" He even called us illegal aliens. What decade is he in? He's talking about us as if he were rounding us up, as if we're not people.
I was preparing myself to hear the worst. I went home to my family this past weekend. I talked to my siblings, two of whom are DACA recipients, about how we're going to survive this like we've always done. We're here for each other. I've messaged them and just let them know to have faith, but also be on guard and make sure they're aware of their surroundings. My sister just got her DACA renewal, and my brother's expires next year. Hopefully I'll be getting my renewal in the next 1 to 2 weeks.
If Congress doesn't pass something that will allow me to continue to work, I'm looking into going back to school, starting some kind of business, or working as a contractor. The other scenario is to go back to working in the fields, which I did prior to getting DACA. I worked in the summer in the fields with my parents. There are other opportunities for me to continue to work, but I have to be very creative in figuring it out.
I worry, but then I realize my parents have survived being undocumented all their lives. We are survivors, and we will continue to survive. Regardless of what the Trump administration wants us to do, we will stay here and continue fighting, continue working.
Melissa Pandika is an independent journalist whose writing has appeared in Discover, the Los Angeles Times, VICE, OZY and other outlets. She lives in Berkeley, California.