President Obama nominated federal appeals court judge Merrick Garland for a seat on the Supreme Court on Wednesday morning, setting up an epic political battle over the replacement of Justice Antonin Scalia.
Garland, the chief justice of the U.S. Court Court of Appeals for the D.C. Circuit, has served on the bench since 1997, and has amassed a long record as a centrist. If confirmed, he would change the balance of the Court and help shape the country's legal system for decades.
"I've selected a nominee who is widely recognized not only as one of America's sharpest legal minds but someone who brings to his work a spirit of decency, modesty, integrity, evenhandedness and excellence," Obama said while standing next to Garland in the Rose Garden.
But Garland, 63, has a long way to go before he's sitting on the bench. Republican Senators have repeatedly refused to even consider the nominee that Obama puts forward.
G/O Media may get a commission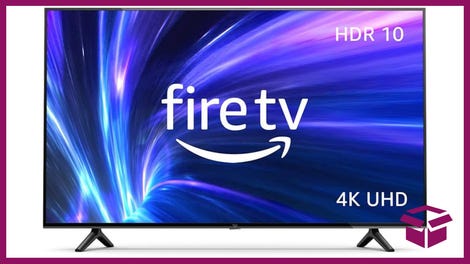 42% Off
Amazon Fire TV 50" 4K Smart TV
Facing Republican opposition, Obama chose someone with unassailable experience. Garland went to Harvard and Harvard Law School, became a partner in a big D.C. law firm Arnold & Porter, and worked in the Attorney General's office during the Clinton administration, where he supervised the prosecutions of Oklahoma City bomber Timothy McVeigh and Ted Kaczynski, the Unabomber. He was appointed to the federal bench by Clinton. Now he's a long-serving judge on what many consider to be the second-most-important court in the country.
Many Obama supporters may be disappointed, however, that the president chose yet another white man for the job. There were plenty of other candidates who could have brought some diversity to the court, such as Sri Srinivasan, who was widely seen as a frontrunner and would have been the first Asian-American justice on the Court. Garland is also a surprising choice in that at 63, he likely won't have as much time on the Court as other potential candidates. He would be older than Chief Justice John Roberts, 61, and Justices Elena Kagan, 55, and Sonia Sotomayor, 61.
Republicans say that they want to let the next president choose the nominee, and all Republican members of the Senate Judiciary Committee signed a letter saying they would not consider Obama's nominee. In order to be confirmed, Garland would need 14 Republican votes to break a filibuster. One downside to choosing a long-serving justice might be that Garland has an extensive paper trail of opinions, which Republicans are sure to scour for any attack line.
In 1997, he was confirmed to the federal bench 76-23 in a Republican-controlled Senate. At the time, Sen. Orrin Hatch (now the most senior Republican in the chamber) said, "no one, absolutely no one disputes the following: Merrick Garland is highly qualified to sit on the D.C. Circuit. His intelligence and his scholarship cannot be questioned."
And just last weekend, Hatch called Garland "a fine man," saying he doubted Obama would choose someone as centrist.
Obama considered nominating Garland to fill the seat of Justice John Paul Stevens in 2010, but instead chose Kagan. The president "opted to save Judge Garland for when he faces a more hostile Senate and needs a nominee with more Republican support," The New York Times reported at the time.
Especially after last night's decisive wins by Republican frontrunner Donald Trump, some moderate senators may now be wondering whether they really want to see a justice chosen by the former reality television star. And if Hillary Clinton wins the presidency and Democrats take the Senate, she could nominate and confirm a more stridently liberal justice.
Now, Obama and his political allies have promised an all-hands-on-deck political campaign to push for Garland's nomination, and to exact political damage on senators in swing states who refuse to even meet with the nominee.
"He's a safer pick," said Paul Collins, a law professor at the University of Massachusetts-Amherst. "He's got a very solid record to be a Supreme Court nominee, he's got a great deal of experience… his record will make it difficult for Republicans to not give him a hearing."
Garland may not excite liberal activists as much as other choices for the court would have. Some are pointing to his criminal justice record: According to an analysis of his opinions by SCOTUSblog in 2010, he was much more likely to reject defendants' appeals of their sentences than grant them.
He has a mixed record on national security issues. In 2003, he joined an opinion that prevented detainees at Guantanamo Bay from appealing their cases to civilian courts. But in 2008, he wrote an opinion dismissing government arguments that Chinese Uighurs at the prison were "enemy combatants" of the U.S. And in a 2009 dissent, he argued that detainees tortured at Abu Ghraib prison should be allowed to seek restitution.
His judicial record aside, many observers were expecting Obama to nominate a woman or a minority to the bench. While Garland is "eminently qualified," his nomination is a disappointment, said Barbara Arnwine, the head of the Transformative Justice Coalition, a civil rights group.
"President Obama had a once-in-a-lifetime opportunity to make this nomination, and I think he should have nominated someone who fully reflected the principles for which this president has stood," Arnwine said. She also wondered why Obama—the first black president—hadn't nominated a single black justice to the Court after three opportunities to do so.
Obama argued that he was focused on Garland's qualifications.
"This is not a responsibility I take lightly—it's a decision that requires me to set aside short-term expediency or narrow politics," he said. "I simply ask the Senate to give him a fair hearing and then an up-or-down vote."
Casey Tolan is a National News Reporter for Fusion based in New York City.