Up until last weekend, it appeared certain the Senate would close business on the 113th Congress without confirming Vivek Murthy, President Barack Obama's nominee for surgeon general.
But thanks to procedural maneuvering and opposition to a deal from conservative firebrand Sen. Ted Cruz (R-Texas), Democrats were thanking Republicans for handing them gifts this holiday season. They now have the opportunity to confirm 24 of Obama's nominees early this week.
The most controversial of those nominees is perhaps Murthy, who has come under fire for some of his past comments about gun violence — a topic that is not exactly central to his would-be job. In two squeaker votes, the Democratic-controlled Senate voted to confirm Murthy on Monday.
"Over the last 17 months, our country has been without a surgeon general — all because of the political agenda of a handful of conservative political activists," said Sen. Chris Murphy (D-Conn.)
G/O Media may get a commission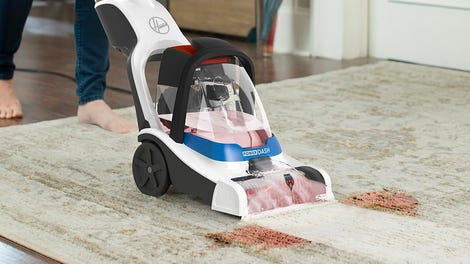 26% Off
Hoover PowerDash Pet Compact Carpet Cleaner
"It's outrageous that, because of some common-sense statements Dr. Murthy made related to gun violence, we were left without one of our most visible and senior public health officials in the middle of the Ebola crisis. Today's vote was a proud stand against the fear and confusion propagated by these extreme groups and their allies in Congress."
His confirmation is a blow to the National Rifle Association, which a spokesman said would "score" the vote. And it's a boon to Obama, whose administration had said recently still viewed confirming Murthy as a top priority. With a GOP-controlled Senate coming in January, it's likely his nomination would have died.
In October 2012 — in the aftermath of the Aurora, Colorado, movie-theater shooting but before the Sandy Hook Elementary School massacre, Murthy tweeted, "Tired of politicians playing politics w/guns, putting lives at risk b/c they're scared of NRA. Guns are a health care issue."
After the NRA's infamous press conference following the Sandy Hook shooting, Murthy tweeted that the association needed to "wake up."
"NRA press conference disappointing but predictable — blame everything in the world except guns for the Newtown tragedy," he said.
Murthy's overall comments on gun violence were noticed by the NRA, which highlighted the comments and came out in fierce opposition of his confirmation.
"Dr. Murthy's record of political activism in support of radical gun control measures raises significant concerns about his ability to objectively examine issues pertinent to America's 100 million firearm owners and the likelihood he would use the office of Surgeon General to further his preexisting campaign against gun ownership," the association said in a statement back in February.
As a result, Murthy ran into a Republican roadblock — and Democratic senators up for re-election in key red states also ran away. His nomination languished for more than a year, and the position of surgeon general has been vacant since last July.
But ironically, the same Republican opposition that hindered his nomination might end up helping to confirm him on Monday. It all started Friday night, when Senate Majority Leader Harry Reid was close to a deal with Republican counterpart Mitch McConnell to vote on the must-pass government funding bill, a $1.1 trillion "CRomnibus." McConnell even left the Capitol, apparently believing the agreement was in hand, and told reporters he'd see them Monday.
But Cruz and fellow conservative Sen. Mike Lee (R-Utah) defied Republican leaders and objected to the deal, demanding a vote on Obama's recent action to unilaterally shield as many as 5 million undocumented immigrants from deportation.
But Reid, sensing the opportunity, started the countdown clock on some of Obama's languished nominations, including Murthy. Without the Senate staying in session Saturday for procedural votes resulting from Cruz and Lee's gambit, Reid wouldn't have been able to put as many of the nominees' confirmations on the agenda before Congress leaves Washington this week. In essence, Cruz gave Democrats a two-day head start.
Democrats, who are about to become the minority party in both chambers of Congress, were elated.
"We appreciate the opportunity Senator Cruz provided us to start voting on these nominees Monday instead of Wednesday – the end result will likely be that we confirm more nominees than we would have if Senator Cruz had not plunged into the breach," Reid spokesman Adam Jentleson said.
The 37-year-old Murthy will be the first Indian-American to serve as surgeon general, and he has said he'll use the position to focus on combating the epidemics of obesity and tobacco use.
But some of his biggest supporters pointed to another big potential role in the summer as a reason for his confirmation — the Ebola outbreak. As the virus spread into the U.S., lawmakers griped that the man who should be leading the response — Murthy — should be confirmed. That responsibility fell to the Centers for Disease Control and Prevention, which was roundly criticized for its response to the disease.
With no confirmed cases currently in the U.S., Ebola has largely faded from headlines. But with the disease still raging in West Africa, supporters say it's another big reason he should be confirmed.
"Abroad, we still face the worst Ebola epidemic in history. With over 6,300 deaths, and many more diagnosed with this devastating disease, now, more than ever, Americans need a top doctor," Sen. Dick Durbin (D-Illinois), the No. 2 Senate Democrat, said on the floor on Monday.
"Dr. Vivek Murthy is that doctor, and I am proud to vote for him as the next U.S. Surgeon General."
Updated with final vote counts.
Brett LoGiurato is the senior national political correspondent at Fusion, where he covers all things 2016. He'll give you everything you need to know about politics, with a healthy side of puns.