President Obama said Monday that 49ers quarterback Colin Kaepernick is "exercising his constitutional right" by refusing to stand for the National Anthem, in a move that will certainly silence Kaepernick's critics (not).
"I gotta confess that I haven't been thinking about football while I've been over here and I haven't been follow this closely," said Obama at a news conference in China. "But my understanding, at least, is that is he's exercising his constitutional right to make a statement. I think there's a long history of sports figures doing so."
Kaepernick has been kneeling during the National Anthem since the preseason started two weeks ago, in protest of the way black Americans are being treated by police.
"To me, this is bigger than football and it would be selfish on my part to look the other way," Kaepernick said. "There are bodies in the street and people getting paid leave and getting away with murder."
Since then, he has become a hot-button topic of debate. While some have shown support—including some tweeting under the hashtag #VeteransForKaepernick—while others have condemned him for being unpatriotic. The criticism has even extended to his socks when an old photo surfaced of him wearing socks with cartoon pigs dressed as police.
G/O Media may get a commission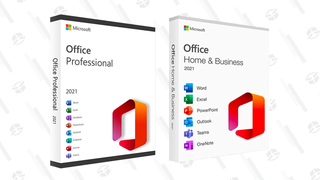 89% off
Microsoft Office Professional 2021 Lifetime License
With the argument against Kaepernick supported by many who also question if Obama is anti-America, the president's support likely won't change many opinions.
On Saturday, soccer star Megan Rapinoe took a knee during the National Anthem at a Seattle Reign's game in solidarity with Kaepernick.
Rapinoe told American Soccer Now that it was "very intentional" because Americans "need to have a more thoughtful, two-sided conversation about racial issues in this country."
"Being a gay American, I know what it means to look at the flag and not have it protect all of your liberties," Rapinoe said, according to the Associated Press. "It was something small that I could do and something that I plan to keep doing in the future and hopefully spark some meaningful conversation around it. It's important to have white people stand in support of people of color on this. We don't need to be the leading voice, of course, but standing in support of them is something that's really powerful."
Earlier this week, Kaepernick was joined by teammate Eric Reid. Faced with the criticism that he is "anti-American," Kapernick has been forced to explain that the "loves America."
"That's why I'm doing this," he said. "I want to help make America better. I think having these conversations helps everybody have a better understanding of where everybody is coming from."