President Barack Obama spoke out at length for the first time this weekend about the racial tensions that have swept through the nation in the wake of of polarizing grand-jury decisions in a pair of cases involving white police officers killing unarmed black men.
The decisions, stemming from incidents in Ferguson, Missouri, and in New York City this week, have inspired nationwide protests and a White House pledge to work toward resolving a trust deficit between law enforcement and local communities.
Obama spoke about the cases in an interview set to be aired in full Monday on BET, which attracts an audience that is largely young and African-American.
"This isn't going to be solved overnight," Obama told BET in the interview. "This is something that is deeply rooted in our society. It's deeply rooted in our history."
Obama met with young community organizers at the White House earlier this week, as part of a Ferguson-centric day at the White House.
G/O Media may get a commission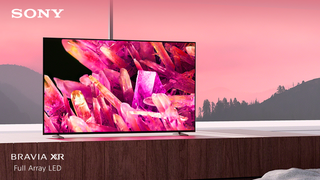 $400 off
Sony 55 Inch 4K Ultra HD TV X90K Series
Obama said he urged the young people to remember two things: First, that there has been "progress" over the 50-plus years since the height of the Civil Rights movement.
If you talk to your parents, grandparents, uncles, they'll tell you that things are better — not good, in some cases, but better," Obama said. "And the reason it's important for us to understand progress has been made is that then gives up hope that we can make even more progress.
And the second piece of advice he stressed for young people was to be "persistent" in their efforts to inspire change.
"We have to be persistent, because typically progress is in steps. It's in increments," he said. "You just have to be steady, so that you don't give up when we don't get all the way there."
As the nation's first African-American president, Obama has treaded carefully when responding to racially charged incidents throughout his presidency. At times in the aftermath of the 2012 shooting death of unarmed black teenager Trayvon Martin, Obama spoke about it in personal terms, saying that if he had a son, he'd "look like Trayvon." He also said he could see himself being Martin 35 years ago.
But he has resisted calls from civil-rights leaders to take further steps in responding to the grand-jury's decision not to indict white police officer Darren Wilson in the shooting death of unarmed teenager Michael Brown, including a visit to the Missouri city. He has empathized with peaceful protesters but condemned rioters and looters and called for their prosecution.
"Those who are prepared to work constructively, your president will work with you. And a lot of folks, I believe, in law enforcement and a lot of folks in city halls and governor's offices across the country want to work with you as well," Obama said in the immediate aftermath of the Ferguson grand jury's decision late last month.
After a series of meetings at the White House on Monday, Obama announced the formation of a task force that would report back to him within 90 days with recommendations on how law enforcement and communities can best work together. He said the task force would study places where the two are working well together, and that the recommendations would be implemented immediately on the federal, state, and local levels.
Obama also announced stricter regulations on the supply and use of military equipment, as well as plans to provide up to 50,000 additional body-worn cameras for police.
The Justice Department is investigating both the incident in Ferguson and the one in Staten Island, where a grand jury declined to indict a white police officer in the choking death of unarmed black man Eric Garner, for possible civil-rights violations.
Obama's interview with BET will air in full at 6 p.m. ET on Monday.
Brett LoGiurato is the senior national political correspondent at Fusion, where he covers all things 2016. He'll give you everything you need to know about politics, with a healthy side of puns.