This week, the first season finale of Fresh Off the Boat aired on ABC. (Full disclosure: Fusion is a joint venture of Univision and ABC. Hey, ABC.) Based on the memoir of the same name by restaurateur Eddie Huang — who serves as the show's narrator, despite his displeasure with its departures from his life story — the '90s-set sitcom follows a rap-obsessed 11-year-old (Hudson Yang) and his Taiwanese-American family in suburban Orlando.
Fresh Off the Boat is the first primetime sitcom to star an Asian family since 1994's All-American Girl, a short-lived ABC vehicle for Korean-American comedian Margaret Cho. This is a true watershed moment for network TV, where Asian actors remain in woefully short supply.
We reviewed the most recent season of every primetime scripted series to air on the five major networks since fall 2014, including those that were later cancelled, to determine exactly how many main cast members are actors of full or partial Asian descent.
There are of course notable roles for Asian-American actors on TV shows off the networks, including Steven Yeun's portrayal of Glenn on AMC's The Walking Dead and Ki Hong Lee as Dong on Netflix's Unbreakable Kimmy Schmidt, but that's another story for another day — just as television's varying treatments of East Asian, South Asian, and Southeast Asian performers justifies further exploration.
G/O Media may get a commission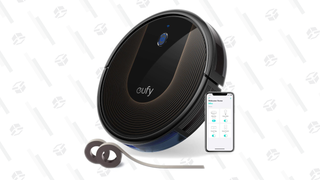 48% Off
Eufy BoostIQ RoboVac
Of the nearly 800 actors considered main cast members across more than 100 network TV shows, just 52 (6.6 percent) are of Asian descent. (CBS and ABC have confirmed our research, which we gathered by investigating every current network actor's biographical information. We also reached out to NBC, FOX, and The CW but have not yet received a response.)

The United States of Asian America
Strictly speaking, that figure isn't terribly different from the real-life composition of this country. As of the 2010 Census, 5.6 percent of Americans are of full or partial Asian descent. But crucially, the "least Asian" states — Montana, West Virginia, Wyoming, South Dakota, and Mississippi constitute the bottom five, all with populations that are less than 1 percent Asian — are also the settings for few, if any, current TV series.
Think of it this way: 20 of the 103 shows we surveyed take place in New York City, which is home to the largest Asian population of any city in the United States. Asian residents comprise 12 percent of the five boroughs' total population, according to the 2010 Census. But among all those shows set in NYC, Asian-American actors represent just 5.8 percent of their main casts. And this is to say nothing of the impact of the state of California, a perennial backdrop for television shows, which is 14.9 percent Asian.

All parts are not created equal
Of course, it's not just the quantity of roles that matters; it's the quality. Besides Fresh Off the Boat, there are only two other network shows in which the unequivocal lead character is played by a performer of Asian descent: FOX's The Mindy Project, created by and starring Mindy Kaling as OB-GYN Mindy Lahiri, and CBS's Scorpion, starring Elyes Gabel as real-life computer expert Walter O'Brien. (Gabel has said that he does not consider himself Asian, but that he has "distant touches of Indian" ancestry.)
Six shows feature actors of Asian descent as co-lead characters: Selfie (John Cho), Elementary (Lucy Liu), Hawaii Five-0 (Daniel Dae Kim, Grace Park), Stalker (Maggie Q), Red Band Society (Griffin Gluck), and Beauty & The Beast (Kristin Kreuk). (Unlike formally designated main cast members, "co-lead" is a holistic category we're using to describe characters who are not a show's singular focus, but who are nevertheless of more narrative importance than most ensemble members.) Selfie and Red Band Society were cancelled in November and January, respectively.
Perhaps even more troublingly, only 39 of 103 network TV shows (38 percent) feature an Asian main cast member at all. Across all five networks, only eight shows (The 100, A to Z, Beauty & the Beast, Fresh Off the Boat, Hawaii Five-0, Marvel: Agents of S.H.I.E.L.D., The Night Shift, and Scorpion) feature more than one Asian main cast member. That's just under 8 percent of the total primetime programming.
And A to Z, we should point out, has also been cancelled.
Cops and scientists and stereotypes (oh my!)
The most common occupation for Asian TV characters appears to be law enforcement, with plenty of detectives (like Daniel Dae Kim's Chin Ho Kelly on Hawaii Five-0 or Kal Penn's Fontanelle White on Battle Creek) and even private investigators (like Lucy Liu's Dr. Watson on Elementary, or Archie Panjabi's Kalinda Sharma on The Good Wife) among their ranks. America can never have too many procedurals.
The "model minority" myth and other Asian stereotypes certainly persist in mainstream media — it took six seasons of The Big Bang Theory for Kunal Nayyar's astrophysicist Raj to work up the courage to talk to a woman. CBS's 2 Broke Girls features an astoundingly, what-year-is-it racist punchline of an Asian-American character in Han Lee (Matthew Moy), a short, desexualized Korean diner owner with a heavy accent.
That said, many Asian-American TV actors embody characters with expectation-defying backgrounds: CEO (Hiroyuki Sanada on Extant), artist (Meera Rohit Kumbhan on Weird Loners), vampire hunter (Steven R. McQueen on The Vampire Diaries), and even Mary Magdalene (Chipo Chung on A.D. The Bible Continues).
We spoke to Gwendoline Yeo, who plays 1st Sgt. Richelle Yoon on ABC's American Crime, about her experiences with TV casting.
Richelle is an army officer whose fiancé's brother was recently murdered and whose future mother-in-law (Felicity Huffman) is an unapologetic bigot. Yoon is tough, smart, empathetic, and complex — a full-bodied, stereotype-busting character who first strides into frame in full military uniform.
"It's so great to be able to play a daughter, a future daughter-in-law, a future wife, a woman in the military, to play a human being — where race can be an issue, but it doesn't need to be an issue," Yeo says.
The former Miss Asian America and Miss Chinatown USA immigrated from Singapore to the United States at age 12. She's perhaps best known for playing maid Xiao Mei on Desperate Housewives, but her eclectic credits include General Hospital, 24, Castle, and The Mentalist, as well as numerous animated series and video games
Yeo believes she's successfully avoided typecasting in her career. She estimates that half of the roles she's booked have been "non-ethnic specific," an achievement she's proud of.

"Sometimes you trap yourself, if you're only playing Asian parts that are too simplistic. I have played occupational roles where, however well written, you are 'the doctor.' Or you play 'the lawyer.' You're educationally defined," she explains.
"I give race less power than people would think," she says, though she's well aware that there will always be appealing roles she won't have access to by virtue of her ethnicity: a Viking, for instance, or a Southern belle, or just about anybody on Game of Thrones.
"Those are things that are not anyone's fault… Colin Farrell can play Irish, Scottish, what have you. He can't play a Cambodian," she jokes.
Finding a place for hapa performers
What about actors who are Irish, Scottish, and Cambodian? According to 2010 Census data, 1.6 million Americans now identify as both Asian and white, a 32 percent increase from 2000. The population of black and Asian biracial Americans has grown by a formidable 74 percent. Hapa (a Hawaiian language-derived term for mixed race, most often used to refer to people who are half-Asian and half-white) performers represent about one third of the main cast members of Asian descent on network TV.
Geoffrey Arend, whose mother is Pakistani, appears on Madam Secretary as speechwriter Matt Mahoney. Viewers aren't given any reason to think Mahoney is anything but Caucasian by default. The same goes for Eurasian actress Katie Findlay's role as Rebecca Sutter on How to Get Away With Murder.
The apparent assimilation of what Vulture's E. Alex Jung calls "stealth Asians" isn't a new phenomenon: Mark-Paul Gosselaar, who is part Indonesian, famously dyed his naturally dark hair blonde to star as Zack Morris on Saved by the Bell.
"Television, generally unable to deal with racial difference more complex than the black-white binary, has no idea what to do with mixed-race Asians," Jung writes. "Basically, if you pass as white, it's a don't ask, don't tell type of situation."
But more TV shows are actively acknowledging the ethnic identity of their hapa cast members. Like Michaela Conlin, the actress who portrays her, the character Angela Montenegro on Bones is half-Chinese within the universe of the show. Chloe Bennet (née Wang), whose father is Chinese American, costars on ABC's Agents of S.H.I.E.L.D. as Daisy "Skye" Johnson. In season two, Johnson's mother is revealed to be a Chinese woman named Jiaying (Dichen Lachman), who also happens to be a semi-immortal Inhuman with supernatural healing powers, no big deal.
As coma patient Charlie Hutchison on FOX's Red Band Society, 14-year-old actor Griffin Gluck, who is one-quarter Japanese, might have passed as entirely white if not for the casting of Korean-American actress Susan Park as his mother.

So we beat on, boats against the current
Despite largely favorable reviews, the future of Fresh Off the Boat remains uncertain. The series hasn't yet been renewed, although we're rooting for it. There's also at least one more high-profile Asian-starring comedy in the works: ABC has ordered a pilot for Dr. Ken, a medical sitcom starring Ken Jeong of Community and Hangover fame.
Nevertheless, television can do better: not only for the benefit of talented Asian-American actors, but for viewers of color who deserve to see themselves represented on screen, and for anyone hungry for more honest, refreshing characters and stories.
How do we get there? Yeo — who once played husband and wife with Fresh Off the Boat patriarch Randall Park on an episode of Eli Stone — emphasizes the importance of diversity behind the scenes.

"We can talk all we want and raise a big stick at the networks, but John Ridley [the Oscar-winning screenwriter of 12 Years a Slave, who is African-American], when he created American Crime, he made a point to hire black women, Asian women," she told Fusion.
"We need more DPs, more directors, more writers who are interested in that level of storytelling," she says. "If more people of color can write their stories, they're going to attract an authentic cast."
In the meantime, Fresh Off the Boat is well aware of the history it's making. The Huang family actually watches a scene from All-American Girl under the closing credits of a recent episode, in a self-referential nod to Fresh Off the Boat's predecessor.
Middle Huang brother Emery (Forrest Wheeler) poses an ironic question to mom Jessica (Constance Wu): "Still no Asians on TV, huh?"
He said it.
See also:
Thank you, 'Kimmy Schmidt,' for giving us the rare Asian romantic hero
Hollywood is shooting itself in the foot by not focusing on diversity
Molly Fitzpatrick is senior editor of Fusion's Pop & Culture section. Her interests include movies about movies, TV shows about TV shows, and movies about TV shows, but not so much TV shows about movies.