Former Senator Joe Lieberman, a laughingstock, turncoat ex-Democrat whose name is shorthand for "spoiler," has a novel idea for Democratic kingpin Joe Crowley, who was felled by left wing newcomer Alexandria Ocasio-Cortez in the primary: Try running third party!

Liberman put that idea forward in a Tuesday evening op-ed for the Wall Street Journal, where he argued Crowley should mount a third party campaign. This is theoretically doable, thanks to New York's ballot rules. Although Ocasio-Cortez won a definitive, stunning victory over the longtime Queens Democrat late last month, Crowley won the race on the Working Families Party line as their endorsed candidate, so he is technically still on the November ballot. When Ocasio-Cortez recently called him out for what looks like positioning for a spoiler campaign ahead of the general, Crowley claimed he's not running but would not vacate the line. Lieberman's idea is for him to also take back his vow not to run an active campaign.
There's precedent for this, of which Lieberman is intimately aware. After losing to a political upstart by double digits in the 2006 Democratic primary, the Connecticut congressman subverted the will of the voters and launched a third party race to win re-election. So, yes, please, do make your case for the future of the party, No Labels Joe (emphasis added throughout):
Joe Crowley's re-election would be evidence that Democrats are capable of governing again. His voting record shows that Mr. Crowley is a progressive. I know him as a bridge builder and problem solver, which is exactly what Congress needs more of in both parties.
Crowley was hand-picked for his seat by the outgoing congressman and, before Ocasio-Cortez, hadn't faced a primary challenge in 14 years. His re-election would be the dictionary definition of upholding the status quo, i.e. Democrats not governing very well!!
As to whether Crowley should indeed campaign on the Working Families line—or cede the over-and-done race once and for all—it's not hard to guess where Lieberman will fall:
Mr. Crowley faces a difficult choice. I know because I faced the same one in 2006 after losing a Democratic primary. I ran as an independent because I wanted all the voters to decide whether I deserved to continue to serve them in the Senate. It was a risk, but I concluded it was worth it to know that I had taken my fight for the kind of government I believed in as far as I possibly could.

G/O Media may get a commission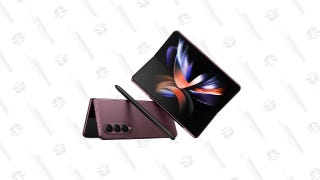 Save Up to $300
Galaxy Z Fold4
YOUR OWN PARTY'S VOTERS CAME OUT TO SAY THEY DIDN'T WANT YOU AND YOU WOULDN'T TAKE "NO" FOR AN ANSWER! I am convulsing:
For the sake of Congress and our country, I hope Joe Crowley will give all the voters of his district the opportunity to re-elect him in November—and I hope they find his name on their ballots.
Crowley is already dragging his heels on dropping off the ballot—he's claimed on Twitter that he could basically only pull this off if he dies or moves out of state—and now Ocasio-Cortez will have to spend valuable time and money treating him as a real concern when she could be devoting those resources to boosting other progressive candidates in close races around the country. When the voters speak, elected officials should listen. The advice Lieberman should be dispensing based on his own experience: Go quietly or with a genuine expression of solidarity or risk becoming a political pariah.
Update, 5:30 PM: In a statement from New York Working Families Party Director Bill Lipton, the party laid into Lieberman as a warmonger and "disgraced" former senator and said they'll go "all out" to elect Ocasio-Cortez:
New York voters aren't taking their cues from Joe Lieberman, a disgraced ex-senator who cheered George W. Bush's march to war in Iraq, killed the public option, and now works as a lawyer at Donald Trump's law firm. We asked Joe Crowley to vacate our line after his primary defeat and he declined. Regardless, he has publicly said he's no longer running for this seat, and we couldn't be more thrilled to support Alexandria Ocasio-Cortez. We're going all out to elect Alexandria and other progressive insurgents this November to build a nation that works for the many and not the privileged few.