According to the family of Jack Yantis, his death was no "officer-involved shooting"—it was "a senseless murder."
The shooting occurred Nov. 1 on the highway just outside the Yantis residence a few miles north of Council. The Adams County Sheriff's Office called on Yantis to take care of a bull that had escaped from his ranch and caused a traffic incident on the nearby roadway. The details are hazy, but Boise's KVTB reports that a shootout broke out between the 62-year-old rancher and two Adams County deputies who were responding to the bull incident.
Sarah Yantis, Jack's daughter, told The Idaho Statesman that there was "no shootout."
"It was a senseless murder," Yantis said. "My dad is dead and the two deputies who killed him are on paid vacation. That makes me angry."
G/O Media may get a commission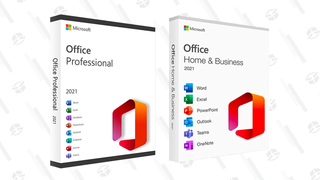 89% off
Microsoft Office Professional 2021 Lifetime License
Yantis' nephew, Rowdy Paradis, also disputes earlier reports of a shootout between the three men. He claims that one of the deputies grabbed his uncle by the shoulder and pushed him right as Yantis was about to put the runaway bull out of its misery. The gun might have discharged accidentally, Paradis told the Statesman, but the deputies' decision to open fire on Yantis was entirely unwarranted.
"Law enforcement should be trained to de-escalate situations," Rowdy Paradis told the paper. "In this case, I stood 10 feet away and watched two deputies escalate the situation and needlessly kill a man."
Members of the Yantis family say that deputies handcuffed Rowdy Paradis and Donna Yantis, Jack's wife, and threw them onto the ground of the highway after shooting Jack Yantis. Donna suffered a heart attack during the ordeal and was flown to Boise's Saint Alphonsus Regional Medical Center for treatment. She remained hospitalized at the time of the Statesman's report.
The Adams County Sheriff's Office declined to comment on the Statesman's story. In a statement issued last week, spokeswoman Teresa Baker said that the Sheriff's Office is "committed to complete a thorough investigation into this incident to determine exactly what transpired."
Nearly 1,000 people have been killed by the police in the United States in 2015, according to The Guardian's police violence database, "The Counted." Jack Yantis is the seventh person to be killed by authorities in the state of Idaho this year.
Bad at filling out bios seeks same.