Today, the European Space Agency (ESA) sent Danish astronaut Andreas Mogensen to the International Space Station (ISS). This is a historic moment for Denmark, which has never before sent a man to space. It's a less historic moment for Lego, the Danish company which also sent some representatives into space, but not for the first time.
Mogensen took 20 ESA-branded figurines with him, and will bring them back when he returns to Earth after his 10-day mission. During a Reddit AMA, Mogensen explained the stunt:

ESA and LEGO Education have partnered together for this mission and among other things, we are running a competition for Danish school children to tell a story about my mission using LEGOs and making a video of their story. The 20 LEGO minifigures are part of the educational outreach and is one way that we hole to connect with younger children.
Mogensen's mission, Iriss, will focus on testing equipment and operations for ESA. It's jam-packed for such a short trip, especially because the Soyuz spacecraft delivering Mogensen and two others to the ISS took the long way there. Mogensen will test an ESA system that examines thunderstorms, log his physiological reactions to space travel, and more.
G/O Media may get a commission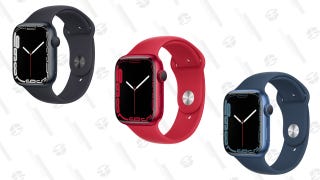 Up To $45 Off
Apple Watch Series 7
ESA offered more insight into the Lego component of the trip:

Primary school students across Denmark were invited to research different aspects of the iriss mission and based on their findings, create short movie clips using a StoryStarter product by LEGO… The children filmed their creative stories and had the chance to share them on YouTube.
Mogensen will announce the lucky winners from space.
Lego sets were included in a 2011 mission to space, and two enterprising teens sent a Lego man into the stratosphere last year. Also, Lego is having a great day, financially. So congrats Lego, and almost congrats to Lego-winning Danish children.
Danielle Wiener-Bronner is a news reporter.