Exactly one month after Donald Trump's nemesis Jeff Sessions resigned as attorney general, the president announced Friday morning that he intends to nominate Willam Barr—a Republican corporate lawyer who formerly served as attorney general under George H.W. Bush—as his replacement.
Trump also said he intends to nominate Heather Nauert, a State Department official and former Fox News employee long rumored to be frontrunner for the role, as the next ambassador to the United Nations after Nikki Haley departs at the end of the year.

While announcing the news to reporters on the White House lawn this morning before departing for Missouri, Trump called Barr "a terrific man, a terrific person, a brilliant man." He also claimed, somewhat dubiously, that Barr was "my first choice 'from day one.'" The president referred to Nauert as "somebody that we know very well," which seems to be basically her only qualification besides doing comms work for the State Department and being a former conservative media anchor.
Barr apparently has a dim view of special counsel Robert Mueller's sweeping Russia probe. More importantly to me, however, is that he was attorney general under the departed Bush, from 1991 to 1993, where he was best known for handing out pardons like candy to Bush's cronies implicated in the Iran-Contra scandal—a detail that likely made Trump's ears prick up.
G/O Media may get a commission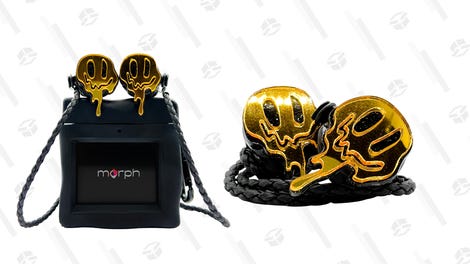 morph audio
Morph Earphones
Barr also worked at the CIA during the 1970s, when business was good at The Company. After leaving the White House, he went on to be a top lawyer for the company that became Verizon.
More recently, Barr was happy to be on the record advocating for a new criminal investigation into Hillary Clinton over the Uranium One mess, a cause boosted for months by right-wing conspiracy theorists.

Nauert's qualifications, on the other hand, consist of the one thing important to the bad man behind the big desk: She's a loyal Trumper. Back when news of her being the frontrunner to replace Haley first broke, a White House official said she's "the only one at State we trust," which is always heartening. But she did once host Fox & Friends, the dumb baby president's favorite TV show, so that must've sealed the deal.