States that still carry out the death penalty via legal injection have had a hard time over the last few years actually finding the drugs to do so. American pharmaceutical companies have stopped allowing them to be used to kill people and the European Union won't let its member countries sell them to us. So states are resorting to some particularly barbaric methods. Utah lawmakers voted in 2015 to bring back the firing squad, and last year, Arkansas rushed to kill eight men in less than two weeks to beat the expiration date of its lethal injection drugs.
Now, Oklahoma has a great new plan: gassing its prisoners to death. The Tulsa World reported on Wednesday that Oklahoma Attorney General Mike Hunter announced a plan to begin using nitrogen gas as a method of carrying out executions, which would make the state the first in the country to do so. The last execution via gas chamber, which is a real thing we used to do to people, took place in Arizona in 1999.

Oklahoma has an especially brutal recent history when it comes to the death penalty. In April 2014, the execution of Clayton Lockett using the drug midazolam ended horrifically. In January 2015, Oklahoma executed its last prisoner to date, Charles Warner; later that October, it was discovered that Oklahoma hadn't used the right drugs to kill him.
Oklahoma Gov. Mary Fallin signed a law in 2015 adding nitrogen to the list of acceptable execution methods. Oklahoma has nearly 50 inmates on death row and it's been three whole years since the state's last execution, so Hunter is just raring to get things going again (emphasis mine):

The state has 49 inmates on death row, including 16 who have exhausted their appeals, Mike Hunter, the state's attorney general, said at a news conference.
"We can no longer sit on the sidelines and wait to find drugs," he said.
I'd argue that Oklahoma could, in fact, continue "to sit on the sidelines," especially when "sitting on the sidelines" means "the state isn't killing people."
G/O Media may get a commission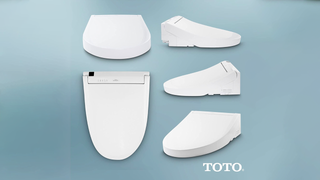 44% off
Toto Washlet Electronic Bidet Toilet Seat
Despite the fact that this method of legalized murder has never been tried before in the United States, Hunter called it the "the safest, the best and the most effective method available"—which obviously counts for a lot considering Oklahoma's horrible track record—and cited the fact that nitrogen is sometimes used in assisted suicides as evidence that it's not inhumane.

"There is a significant difference between when someone is seeking to terminate their own life—and they are not struggling and are willfully participating—and what happens when you involuntarily seek to terminate the life of someone who wants to live, and who will be struggling and trying not to breathe," Robert Dunham, executive director of the anti-death penalty group the Death Penalty Information Center, told the New York Times.
"Oklahoma is once again asking us to trust it as officials 'learn-on-the-job' through a new execution procedure and method," assistant federal public defender Dale Baich told the World. "How can we trust Oklahoma to get this right when the state's recent history reveals a culture of carelessness and mistakes in executions?"
Great question!