Welcome to WHAT NOW, a morning round-up of the news/fresh horrors that await you today.

As the indictments against his former campaign chairman Paul Manafort and campaign adviser George Papadopoulos broke on Monday morning, President Trump was reportedly watching the news, repeatedly calling his lawyers, and ranting at the TV like a crazed old guy.
As The Washington Post reported Monday night, the president was so wrapped up in watching the cable news coverage—and his former confidant's perp walk—that his staff worried why he was so late in arriving to the Oval Office. Instead, Trump spent the morning "playing fuming media critic, legal analyst and crisis communications strategist," several people close to the president told the newspaper.

Although Trump initially felt vindicated by the news, as the charges against Manafort stemmed from long before he joined the campaign, the glow of victory didn't last long when charges against Papadopoulos were announced, providing the cleanest link so far between Trump's presidential campaign and Russian officials.
And despite the White House's attempts to do everything possible to deflect and downplay the charges, and Trump's legal team claiming the charges barely caused a blip in the White House, the Post reported:
Trump's anger Monday was visible to those who interacted with him, and the mood in the corridors of the White House was one of weariness and fear of the unknown. As the president groused upstairs, many staffers — some of whom have hired lawyers to help them navigate Mueller's investigation — privately speculated about where the special counsel might turn next.

'The walls are closing in,' said one senior Republican in close contact with top staffers who spoke on the condition of anonymity to speak candidly. 'Everyone is freaking out.'
G/O Media may get a commission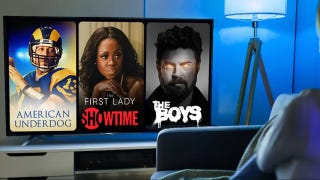 UNDER $1
99¢ Prime Video Channels
Better late than never, I suppose. This thing is far from over.
WHAT ELSE?
In an appearance on Laura Ingraham's shiny new Fox News show last night, Chief of Staff John Kelly called Confederate General Robert E. Lee an honorable man who gave up his country to fight for his state" (and also slavery) and blamed the Civil War on a "lack of ability to compromise" (on slavery).

Hillary Clinton reminds Fox News and us that she didn't win the 2016 election.
Happy Halloween to all the children out there! Don't be like this University of Nevada-Reno police officer.

For more news and opinions that get under your skin, follow Splinter on Facebook.