Bullfights are returning to Colombia's capital. And this time, it looks like Bogota's pro-animal rights mayor won't be able to stop the matadors and their fans.
Colombia's Constitutional Court ruled this week that efforts to ban bullfighting in the city of 8 million went against national laws that protect "cultural forms of expression."
In a 5-4 decision, the court ordered Bogota Mayor Gustavo Petro to once again allow the city's bullring to be used for its original purpose.
Petro has been banning bullfights since 2012 by refusing to lease out the publicly owned building to bullfighting organizations.
Instead, the progressive mayor pushed to have concerts, chess tournaments and even a beach volleyball tournament held in the arena, which seats around 14,000 people (and was mostly empty during many of his events).
G/O Media may get a commission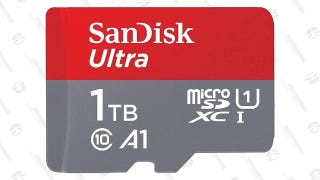 Save $75
SanDisk Ultra 1TB MicroSDXC Card
In their ruling Wednesday, the judges also argued that bullfighting can only be regulated by Colombia's Congress, and not by city governments.
Young Colombians opposed to bullfighting took to Twitter soon after the decision was announced.  "How sad for culture to be turned into intolerance and lack of respect for animals, they also deserve to exist," wrote one user.
"I think that the judges who voted in favor of bullfighting must have box seats," Ana Maria Parada wrote in a tweet.
In Bogota, bullfights are particularly popular with the city's elite and the best seats can cost more than $100.
But bullfighting opponents have come under some criticism for not speaking out against more popular pastimes, like cockfighting.
Mike Ceaser, an American expat living in Bogota, noted on his blog that bullfights only kill "a few dozen" toros in the city each year.  Meanwhile, he said hundreds of roosters suffer cruel deaths at the city's legally sanctioned cockfighting rings and "nobody says a word."
Animal rights groups in Colombia said that they will now try to push for a citywide referendum on whether bullfighting should remain legal. Colombia is among a handful of countries, including Mexico, Spain and Peru where bullfighting is still practiced.
Manuel Rueda is a correspondent for Fusion, covering Mexico and South America. He travels from donkey festivals, to salsa clubs to steamy places with cartel activity.