Miss USA must be poised. She must care about her country, about its veterans, and its bullied children. She must also, according to the good people behind Miss USA, be unwed, childless, and between the ages of 18 and 27 (specifically, in their words, "under 27 years of age by February 1st in the year they hope to compete in the Miss Universe or Miss USA competition.") But this year's Miss USA, Olivia Jordan, is taking issue with this last rule.
Jordan was 26 when she was crowned Miss USA in July of this year but, as even human women must, she has aged since then. Now 27, Jordan has apparently been catching some flack for her age. In response to the criticism, Jordan posted a response (along with a photo of herself, scantily clad and youthful in appearance) to the official Miss USA Facebook page.
"For all those that tell me I'm 'too old' to be Miss Universe or even to hold my current title as Miss USA, please clarify what you mean by that," Jordan wrote, continuing:

Do you mean I'm too old to advocate for important global causes like Child Sex trafficking or HIV/AIDS? To lobby in DC for Ovarian Cancer? To hold my own on CNN and turn a conversation from negativity towards pageantry into advocacy for the Alzheimer's Association? Or is it that I'm too old to visit schools with the message to work hard and be nice to others? Am I too old to inspire others to be confident in their own skin? Or too old to inspire everyone to follow their wildest dreams no matter how many times they fail along the way?
G/O Media may get a commission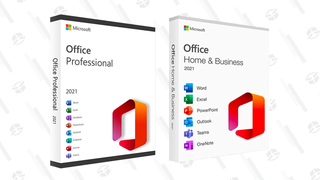 89% off
Microsoft Office Professional 2021 Lifetime License
Jordan really hits her stride when she points to the inherent sexism in the accusations against her:

Or is it that your view of beauty is so limited that it somehow expires before the ripe age of 27? Or even worse, is your ageism an undertone of your outdated sexism and you feel that my career aspirations have a time limit so I can focus on other things like getting married and pregnant? If you are going to judge me for my age, at least attempt to give a valid argument why you have decided that my dreams should have an expiration date.

She invited reader to post comments on how they have improved with age. Some of them are actually quite powerful:

We hope your message gets through to pageant officials Olivia, and are glad to see you embrace your late twenties:
Amen.
Danielle Wiener-Bronner is a news reporter.