References in Bob Woodward's book Fear and in the anonymous New York Times op-ed about White House staff members discussing the 25th Amendment are real, according to former White House aide Omarosa Manigault-Newman.
Manigault-Newman told MSNBC's Alex Witt that it happened so frequently while she was there that staffers—and possibly even members of Donald Trump's own family—had their own hashtag: #tfa.

"You know, we had a little hashtag, #tfa, which now that I think about it, I'm a little embarrassed to tell you how often; when I went through my text chains from the White House, I saw the hashtag #tfa—25th Amendment," she said.

The 25th Amendment describes the process for removing a sitting president from office should the vice president and a majority of Cabinet secretaries deem the president "unable to discharge the powers and duties of his office."

"Whenever [Trump] did something that was just so insane and so crazy and unhinged, when he would flip positions from one hour to the next, we'd just hashtag at #tfa and we'd keep moving," Manigault-Newman said.

G/O Media may get a commission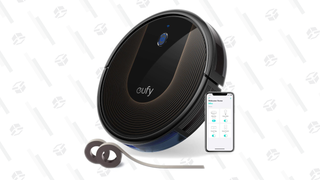 48% Off
Eufy BoostIQ RoboVac
The former Trump aide and reality TV star, who was fired from the White House last December, said she has text messages and emails in which the hashtag was used "more than 100 times."
"And I have those text chains," she added. She said it was a way for staff to "cope."

In the anonymous op-ed, titled "I Am Part of the Resistance Inside the Trump Administration," the author wrote:

Given the instability many witnessed, there were early whispers within the cabinet of invoking the 25th Amendment, which would start a complex process for removing the president. But no one wanted to precipitate a constitutional crisis. So we will do what we can to steer the administration in the right direction until — one way or another — it's over.
On Sunday, Vice President Mike Pence denied participating in any conversations in which the 25th amendment was discussed. "No, never," he said on CBS' Face the Nation.

In an interview on Fox News Sunday, Pence said he would agree "in a heartbeat" to take a lie detector test to prove he and his staff weren't involved in writing the op-ed, whose author remains a mystery.