Early Saturday, several residents of the city of Culiacan, capital of the Mexican state of Sinaloa, woke up at around 4 a.m. to the sound of helicopters flying low. It's not that unusual in a state riddled by drug activity, but this time it was different. Joaquín "El Chapo" Guzmán Loera, the most powerful drug cartel leader in Mexico, was about to be captured.
The news caught everyone by surprise — El Chapo had been eluding justice for 13 years after escaping from prison, allegedly through a laundry basket. But once the shock subsided, it gave way to fears about the future of Sinaloa, where the cartel El Chapo presided over was based. "What will happen," asked one taxi driver, "once all these marines who now hang around the state, leave town?"
El Chapo is perhaps the most internationally known trafficker since Pablo Escobar, but he started off small, and if his legend is worldwide, he has icon status in Sinaloa, where he hails from. Originally from the rural village of La Tuna, in Badiraguato, Sinaloa, he rose in the ranks. He is as inextricably Sinaloan as Capirotada dessert or banda sinaloense music.
A passenger waits at Culiacan airport while reading about the arrest of "El Chapo" on Feb. 23, 2014. Photo by Encarni Pindad
G/O Media may get a commission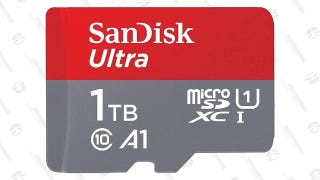 Save $75
SanDisk Ultra 1TB MicroSDXC Card
The widespread fear in this city, the capital of the state where Mexico's narco problems began, is that his capture leaves a huge vacuum of power, one that others will be quick to try and fill.
A young schoolteacher running errands in the downtown succinctly puts into words what everyone seems to be thinking: "Los Zetas." The name of the infamous drug cartel which controls a large part of Mexico and has been fighting El Chapo for years.
"The first thing I thought of was of the Zetas, and what is going to happen to us?" says the 27-year-old schoolteacher from Culiacan, who asked that her name not be used.
The Zetas, largely considered Mexico's most technologically advanced and dangerous cartel, control much of Eastern Mexico and Central America. They are considered unparalleled in their ruthlessness, have a tendency to decapitate their enemies, and a large part of their activity consists of not only drug trafficking, but also human trafficking and extortion.
The school teacher, like many people here in Sinaloa, saw El Chapo as a kind of local guardian. "We knew that (Los Zetas) had tried to come in here, and they (El Chapo) hadn't let it happen. And we felt a certain security, knowing that they were protecting us."
Hours after El Chapo's capture, life carried on as usual in the city of Culiacan: families went to church, people ran errands, street vendors wove in and out of bustling traffic. But there was a tangible anxiety, a sense of uncertainty over the future, and fear that a storm is brewing.
A young housewife said she didn't believe the news when she heard it. And then the anxiety set in. "(El Chapo) is a narco. He didn't work with kidnappings, human trafficking, and demanding taxes from businesses. Look, we know they aren't good people. We know they don't do good things. But I think the Zetas do worse things."
Others say El Chapo's capture will make absolutely no difference — he will be replaced by someone else, and after this dies down, all will stay the same.
"It's just a circus with no animals," said one older man. "One falls, another one takes his place"