The budget proposal the Trump administration released on Monday is a lengthy collection of moral horrors, but one section contains a particularly striking example of what is both new and old about this administration when it comes to policies that punish poor people.

The White House's Office of Management and Budget has proposed a 30 percent cut to the Supplemental Nutrition Assistance Program—also known as food stamps—over ten years. This would radically overhaul and dismantle SNAP—a longterm Republican policy priority—and would lead to an estimated 4 million people losing their benefits entirely, according to the Center on Budget and Policy Priorities.
But the Trump administration has also come up with something called "100 percent American grown food" meal packages, which would replace traditional benefits that allow people to go to the grocery store and purchase their own food.
From the proposal (emphasis mine):
The Budget proposes a bold new approach to administering SNAP that combines traditional SNAP benefits with nutritious and 100 percent American grown food provided directly to households. Under the proposal, households receiving $90 or more per month in SNAP benefits will receive a portion of their benefits in the form of a USDA Foods package, which would include items such as shelf-stable milk, ready to eat cereals, pasta, peanut butter, beans and canned fruit, vegetables, and meat, poultry or fish.

The remainder of their benefit would go on the SNAP Electronic Benefit Transfer (EBT) card for use at approved grocery retailers. This cost-effective approach will generate significant savings to taxpayers with no loss in food benefits to participants. It will also improve the nutritional value of the benefit provided and reduce the potential for EBT fraud.
G/O Media may get a commission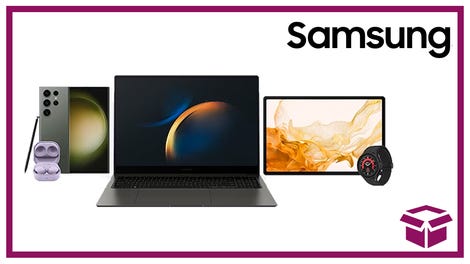 24 hour deals
Discover Samsung - Daily Deal
This idea checks quite a few rightwing boxes. It functions as a step towards defunding basic social safety net programs while also reinforcing a the fiction that people receiving food assistance are scamming the system and should not be allowed to make their own choices about the food they put on their tables.
It would also radically remake how the program works today.
"The level of disruption this would introduce is extraordinary," Stacy Dean, the vice president for Food Assistance Policy at the Center on Budget and Policy Priorities, told Splinter. "I don't think anyone has contemplated this."
According to Census data and an analysis from the CBPP, SNAP kept around 8.4 million people out of poverty—including about 3.8 million children—in 2014. (Nearly half of all SNAP participants are kids, which is rarely mentioned by Republicans working to dismantle the program.) It is associated with improved health outcomes and helps put money back into local economies as people use their benefits at neighborhood grocery stores.
SNAP works, extraordinarily well, when it is allowed to work. But years of funding cuts—including bipartisan efforts to do so—have meant that recipients are forced to do more with less, reproducing cycles of poverty and hunger.
That is a familiar pattern. The packaged meal program—which would further constrain the meal choices and autonomy of low-income families through a kind of Fresh Direct from hell—is something new entirely. Why? Because this administration is nothing if not innovative in its cruelty.